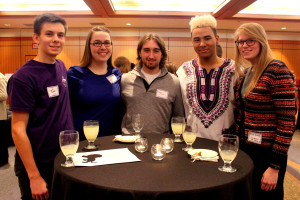 By Abedin Rafique
On the eve of Lawrence's 168th Founders' Day on January 15th, over 60 student leaders from across campus gathered at the Pusey room for the first ever Leaders of Lawrence Reception. The guests included presidents of student organizations, members of the LUCC cabinet and class representatives, captains of athletic teams and ensemble leaders from the conservatory. The event was sponsored by LUCC and organized by special projects manager, senior Elena Stabile.
A similar event was organized in the spring of 2014 on a smaller scale in conjunction with the Committee on Diversity Affairs, or CODA, in the diversity center, and the success of the program encouraged Stabile to expand it to a wider audience.
"I believe strongly that ideas get going and progress is made when we get people talking to each other," said Stabile. Discussions with other cabinet and committee members helped her refine this idea, ultimately leading to an event where she hoped people would be "making one-on-one relationships so that they feel comfortable sharing their own ideas and what they're doing with each other."
One of the goals of this event was to set the stage for future collaboration between clubs and organizations. Recognizing the work of student leaders on behalf of LUCC was also an objective of the event.
"I think if they go in feeling that their work is appreciated they'll feel more impetus to put more work into it," added Stabile.
The mostly casual event had some hors d'oeuvres catered by Bon Appetit, a set of 'prompts' placed around the room to guide conversations, and a keynote address by Polly Dalton '14, who serves on Appleton's city council as an alderperson for the eighth district. Her address to students covered issues of over-involvement, the importance of prioritization, and focus on continuous leadership development. While it's absolutely necessary for college students to be involved and develop their skills, it is also important to trust your peers and their abilities so that you can step back at times to let them lead. This, she suggested, creates new generations of leaders and reduces stress on an individual; at the same time, collaboration and team work increase knowledge about available resources and connections.
"The best part for me was being able to put faces to organizations…I was honored that so many people approached me about collaborations," said senior Peter Raffel. "Leaders of Lawrence is a concrete way of making connections happen, which can lead to creative events by bringing together two areas of interest."
Stabile said she was happy with the initial turnout, and she will be following up with the attendees about its effectiveness and possible modifications in the coming weeks.
"Working on our attitudes and activities during the entire year will make future events much more successful," she said.