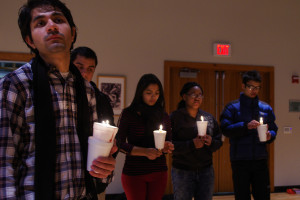 By Ollin Garcia Pliego
National and international media , including The New York Times and The BBC News reported that on Dec. 16, 2014, nine men from the terrorist group Tehrik-i-Taliban Pakistan brutally massacred 145 people, including 132 school children at an Army Public school in the city of Peshawar, Pakistan. According to these sources, the terrorist attack was a response to Pakistani government's attempt to combat and eradicate the terrorist group from the country.
In response to the one month anniversary of this atrocity, protests have taken place around the world, and one came to Lawrence University on Friday, Jan. 16, 2015, when junior Amaan Naseer Khan, from Lahore, Pakistan, led an event called "Vigil in memory of Peshawar attack and against terrorism" to promote awareness of the political and social situation in Pakistan as well as to demonstrate solidarity with the people of his country.
A few moments after 6 p.m., more than a dozen students gathered in the Esch Hurvis Room to participate in the vigil and were given a lit candle as a symbol of remembrance for the students slain over a month ago in Peshawar.
Khan gave a short presentation about the terrorist attack and the social reaction both in Pakistan and across the world. Next, the students who attended had the option of donating money and writing a letter to the students in Peshawar, an action meant to show support for the victims.
"This establishes a connection with the students of Pakistan; students from Lawrence University… are sending cards to Peshawar… That's the expression of solidarity with them," said Khan. Moreover, he thinks that the vigil is an opportunity to promote a more accurate image of Pakistan because "[it] is not procreated in regular media as much as it should be, which is that Pakistanis are victims of terrorism," he said.
Pakistanis are without a doubt making noise against extremism. "[The activists and people] began this vigil and protest around the world… in Pakistan, Europe, the Middle East, United States, including Appleton now," said Khan.
The protests started in Pakistan and Khan explains that "the activists in Pakistan led by… Jibran Nasir… started this movement called 'Never Forget Pakistan,'" and its purpose is to ensure that the massacre remains alive in public imagination.
Additionally, Khan points out that there needs to be a collective effort in the United States so that people are more informed about the political situation in Pakistan. "There is miscommunication and the media, I think even the population in general, does [sic] not make as much [of a commitment and effort] to know what is actually happening," he said.
The vigil took place in an environment of peace and harmony, and the students showed their support with silent and respectful presence. Freshman Nauman Naseer Khan, also from Lahore, Pakistan, explains the meaning of the candle light vigil.
"[It] was supposed to show solidarity for the families affected by the attack in Peshawar… what's important is that 10,000 miles away from Peshawar, from those families, [there are people here] showing solidarity towards the children who were killed in the attack…the whole world is with those families in this difficult time."
Cumulatively, protests around the world can have a big impact on the course of Pakistan's political situation and history. Speaking out against the Taliban might not be easy for everyone since it implies taking a risk.
Nauman Khan says, "although we are much safer than the people in Peshawar…it is very important for us to overcome this fear and stand against those people who are willing to kill innocent civilians." Around the world, social media can play an important role because it puts pressure on Pakistan's government so that they take more serious measures to protect innocent civilians.
Although Amaan and Nauman's hometown, Lahore, is 320 miles away from Peshawar, they are tremendously concerned about their country, a feeling that brought them together in the organization of the vigil in an attempt to promote awareness of Pakistan's political situation among the Lawrence community. More than a month since Peshwar's massacre, students demand an end to violence and call for justice and peace.