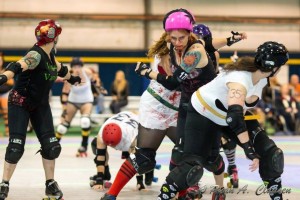 By Nalee Praseutsack
Megan Pickett, Associate Professor of Physics, is currently seeking new recruits for the Paper Valley Roller Girls, a local roller derby team. She strongly encourages Lawrence students to give roller derby a try based on her positive experiences with the sport.
Roller derby is a contact sport in which two teams of five women attempt to have their jammer—or point scorer—lap other skaters to earn points, while simultaneously blocking the opposing jammer and blockers. The games are divided into thirty-minute halves composed of "jams" that last approximately two minutes.
Injuries are a constant possibility in roller derby. "We all get hurt and bruised, because it's a contact sport," Pickett said. There are extensive precautions taken to prevent such injuries. Skaters must wear "quite a bit of safety equipment," said Pickett, such as elbow and knee-pads, helmets and mouth guards, among other protective gear. The proper ways to fall are some of the first things skaters are taught in order to prevent injury.
Pickett, who has been participating in roller derby since 2012, has only sustained two injuries severe enough to keep her off of skates. Both instances arose from accidents and neither kept her away for more than a few weeks.
While roller derby has been depicted as a violent game, it is actually highly regulated. "You can't just punch someone," Pickett said. The sport is not about hurting others, but supporting the team and athleticism. Games are highly regulated by five officials on skates and more watching closely from the sidelines.
Some leagues place more emphasis on showmanship and a certain aesthetic, but the Paper Valley Roller Girls and the league they play in emphasize athleticism. "Some of us have tattoos and dye our hair," Pickett said, "but the focus is much more on athleticism."
Roller derby is a very active and engaging sport and, thanks to roller derby, Pickett says that she "has never been in better shape." Skating provides "good core exercise" because skaters are constantly moving.
Pickett highly encourages Lawrence students to at least check out roller derby and give it a try. "I did this on a whim," she said, "and now I'm an All-Star and president of the league." She also finds the sport to be "empowering" and "a good team sport…if you want to be a part of something bigger."
The team caters to newcomers with a new skater coordinator dedicated to helping new skaters get their bearings and introducing them to roller derby. There is plenty of equipment available, so monetary commitment at the start is not a concern. "We will teach you everything you need to know," said Pickett, who had not been on skates for years before joining.
If you're interested in seeing what roller derby is like, you can attend a practice. For those interested in becoming part of the team, you must attend at least 50% of practices to be considered an active skater. Practices are Tuesdays and Thursdays at 7:15 p.m. at Skaters Edge in Appleton and on Sundays at 6:30 p.m. at St. Mary's Roller Rink in Green Bay.
While there are currently no Lawrence students on the team, Pickett did mention the possibility of setting up a car pool in Appleton to help current students get to practices.
The Paper Valley Roller Girls have a brother team, the Green Bay Smackers. The coaches for the Paper Valley Roller Girls are skaters for the Smackers and the two teams have a close relationship. The Smackers, like the Roller Girls, are always looking for new skaters.
The Paper Valley Roller Girls have their first home match on January 31 against the Prairieland Punishers from Decatur, Ill. The bout will be at the House of Speed in Green Bay. Tickets are $5 with student ID or in advance and $8 at the door. Doors open at 7:30 p.m. and the game will start at 8 p.m.