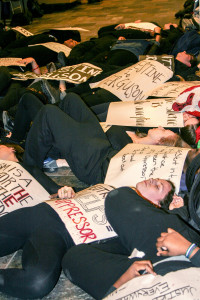 "Hands up! Don't shoot!" echoed off the walls of Warch Campus Center last Tuesday night, when approximately 50 students dressed completely in black marched from Sankofa house chanting, in a demonstration organized by the Black Student Union to raise awareness on the unjust killings of Black Americans.
The demonstration, which took place over the course of about 30 minutes, started at 6:45. After arriving at the Campus Center, students involved marched down the stairs to the entrance of Andrew Commons, and, stopping their chant, abruptly fell to the ground and remained there motionless for four minutes and thirty seconds.
This type of demonstration, known as a Die-In, has been recently used in larger protests, such as Ferguson, Mo., to raise awareness for the Black Americans killed by Police Officers. The Lawrence event, which was planned in secret from those not involved, was organized primarily by Brienne Colston, Chair on the Committee of Diversity Affairs, and Romare Antrobus, president of BSU.
"It's been on our minds for a while. After all the events that surfaced over break, the non-indictments, we knew we had to do something, but we didn't quite know what that something was, for a while, and we didn't know how impactful our something would be on this campus." Colston explained. "We'd been planning it maybe for two weeks, maybe a week and a half. Not very long. It was supposed to be a spontaneous thing. It was really supposed to impact the campus as quickly as possible," added Antrobus.
Colston described similar events she had participated in over winter break, at a larger scale. "I did a Die-In at Gracie mansion, organized by the New York justice league, which is a social justice organization which… unites activists across the country to do good work. The die-in we did at Lawrence was a contained, college die-in, but that one was one the streets of New York," Colston said.
"I knew that that couldn't be replicated, but I also knew that the feeling that I had down there, and then solidarity that created between the members of the justice league, was something that we all wanted to feel at Lawrence, as Black Student Union."
After the four and a half minutes were up, participants stood up in unison and resumed their "Hands up! Don't shoot!" chant. Students who had been waiting at the doors to leave the commons or at the top of the stairs had mixed responses, according to Colston. "There was a lot of laughter, which was disheartening… But there was also a lot of silence, and a lot of people seemed contemplative."
Regardless of the varied reactions, Antrobus felt positive about the outcome of the die-in.
"As a first step to raise awareness on these topics, it was definitely successful," Colston agreed. "If you wait for an entire institution to be ready [for this type of activism], you've already left. What's the point in that? I think this was a great first step, but what campus needs to realize is that this was exactly that: a first step. And the negative backlash is not stopping anyone. It's making us refuel for future events."
Colston concluded by clarifying the intent of the demonstration. "The die-in was really targeting anti-blackness in America, and specifically those bodies we've seen killed in history, as well as over break, that we don't talk about a lot. Everyone who was united in solidarity to do the die-in knew that this was for anti-blackness and wanted to be advocates for change and new anti-oppressive tactics."