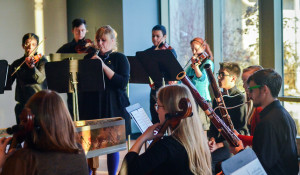 By Anastasia Skliarova
Sunlight—an unusual sight in the middle of any midwestern winter—streamed in gently from the windows of the Esch-Hurvis Studio, reflecting the glimmering surface of the Fox River. It was one of those rare Sunday afternoons where the weekend feels as relaxing as it should and the bleak landscape looks nicer than it is.
In perfect accord with this sublime setting was Flying Forms, a professional baroque chamber ensemble that has come to Lawrence University to work with the Lawrence Baroque Ensemble several times over the past years. Starting at 3 p.m. on Jan. 25, they performed a few pieces within their trio and offered intriguing background information about the works before the collaborative portion of their concert with students.
Flying Forms is comprised of Marc Levine, who plays baroque violin; Tulio Rondón, who plays viola de gamba and Tami Morse, who plays harpsichord. The baroque music they choose to play, which is often underrepresented in a music world that is encouraged to innovate, combined with the baroque instruments upon which they play engenders a great deal of authenticity in their performance. This is a group that truly cares about baroque music.
After the trio's section of the concert ended, the Lawrence Baroque Ensemble joined Flying Forms during the intermission. The pieces they played together included "La Folia," by Antonio Vivaldi, which included unique arrangements of the Lawrence musicians for the different variations within the piece.
The next piece they played was "Concerto Grosso, Op. 3, No. 2" by George Frideric Handel, followed by "Symphony in C Major" by Carl Philipp Emanuel Bach, son of Johann Sebastian Bach. Baroque music helped characterize the ornamental, detailed art of the 17th and 18th centuries, and these pieces beautifully exemplified the grandeur of the epoch.
After the concert was over, the Lawrence Baroque Ensemble thanked Flying Forms for their wisdom and artistry over the weekend, after which Flying Forms thanked the Lawrence Baroque Ensemble for inviting them to perform on campus again.
When asked about what draws students already busy with other ensembles, classes and lessons to the Lawrence Baroque Ensemble, sophomore board member Allison Brooks-Conrad said, "I think many students seek out performance opportunities with the Lawrence Baroque Ensemble because it fills a niche here at Lawrence—it's a conductor-less, chamber orchestra that is entirely student run. Additionally, we are only one of a few options for early music performance practice here at our school."
"One of my favorite moments with the Lawrence Baroque Ensemble was just this weekend," said Brooks-Conrad. "It was so wonderful to perform with our ensemble at its biggest and strongest, at least since I've been here. It was great to see everyone's individual hard work come together in such a musical way."
Regarding specific repertoire from this concert, Brooks-Conrad said, "I love the "La Folia" variations, and it was such a pleasure to be able to perform them with such a fantastic group of musicians and friends."
It was a pleasure to see commitment to a distinctive craft expressed so beautifully, both by students and professional musicians. After the concert, violinist Levine shared his feelings about this student group, saying that he has been impressed by their ability to independently rehearse, perform and seek out professional support. With a smile on his face, he succinctly described the Lawrence Baroque Ensemble as "fantastic."