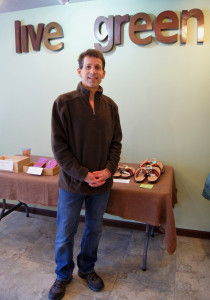 By Nalee Praseutsack
Just Act Natural provides natural and organic products for everyday life. Conveniently located in downtown Appleton, the locally owned and operated shop offers eco-friendly alternatives for body care, cosmetics and many other products.
Owned and operated by husband and wife duo J.C. and Dianne Paustian, Just Act Natural opened its doors about six years ago. J.C. Paustian, who is originally from Appleton, explained that the idea of the store arose when he "wanted to do something that combined [his] love of the environment and retail background."
Mr. Paustian first became acquainted with eco-friendly and natural products and lifestyles while working in Florida at The Dolphin Research Center. There, he worked with many people who were passionate environmentalists. Their beliefs eventually rubbed off on him.
He brought his interest in healthy, socially responsible living back to Appleton and opened the store to make natural products available to people in the area.
"I believe there is a need for this niche … that can turn into a lifestyle," Paustian said. The store can act as a way to get people thinking about how products affect them and perhaps prompt people to see more environmentally conscious lifestyles as options.
"Appleton has a long way to go," Paustian said, "but it has come a long way." He believes Just Act Natural can help Appleton move towards creating a more environmentally conscious community.
Just Act Natural also carries a selection of grocery items in-store such as organic eggs, milk and drinks like Kombucha. The store also serves as a mediator for pre-ordered local foods.
Starting last winter, Greenfire and McCarthy Co-op began pre-ordering food through Just Act Natural. For a small fee, Just Act Natural places orders for the Lawrence organizations and several other groups in the area. The food comes from Trust Local Foods, a local food distributor and retailer based in Little Chute, Wis.
The food, which ranges from spinach and yogurt to tortilla chips and cheeses, as well as many other options, is all "produced within a 150 mile radius of Appleton" according to Trust Local Foods' website: trustlocalfoods.com. This is part of an effort to support small local farms and create a more socially and environmentally responsible system.
The response from students as to the quality of the food and the store itself has been positive and the partnership continues this year. Students "love the variety, the freshness [and] that it's local," said Paustian.
Junior Margaret McNeal, who places pre-orders for Co-op, has frequented Just Act Natural for three years and finds that it fits well into a Lawrentian lifestyle.
"Lawrence as a community values caring for the environment, as evidenced by our recycling programs, the Warch [Campus] Center, SLUG, co-ops, etc.," McNeal said in email correspondence, "I believe supporting Just Act Natural falls in line with these values."
Paustian believes Just Act Natural can benefit Lawrence students specifically by not only providing natural alternatives, but also by being convenient.
"If [students] need a soap or a shampoo, there's a place closer than walking to Walgreens," he said. Paustian recommends that people try replacing one of their everyday products like shampoo or lotion with a natural alternative to give organic products a try. People may find that the product works just as well, or even better.
"Everyone wants to be healthy," he said, "and natural products will benefit you in the long run."
McNeal also supports the idea of replacing everyday products. In particular, she recommends Mind & Body Probiotic Deodorant Cream, a natural deodorant because she claims, "there's absolutely nothing that works as well."
Lawrence students can receive a 10% discount on non-food items. Just Act Natural is located at 129 E College Ave. The shop is open from 10 a.m. until 6 p.m. on Mondays through Fridays and 10 a.m. until 4 p.m. on Saturdays.