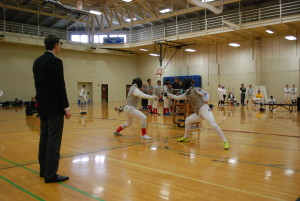 The Lawrence University Fencing team competed this weekend at the Buchanan Kiewit Wellness Center against the University of Wisconsin Madison, Northwestern University, and University of Minnesota.
The Vikings were successful in their first home meet in over 10 years as the men's team swept all three of their opponents: Wisconsin 21-6, Northwestern 16-11, and Minnesota 24-3. The women's team found equal success in defeating Wisconsin 18-9 and Minnesota 27-0. The Northwestern women's team did not compete in this meet.
Going into the meet, the fencing team's aim was to compete at a high level as well as display their skills to the Lawrence campus. "We really wanted to show off to the campus and to other schools that we are fencing and that we are fencing well," says senior Graham Jones. Jones's goals seemed to have been achieved, as there was a large student turnout to see the Vikings sweep three high-powered Big 10 teams.
The sabre competition was the highlight for the men as freshman Joe Davis went 9-0, while Jones and junior Ian Pelton both went 8-1 for a collective record 25-2 against the three men's teams. Both the men's foil and epee went 18-9 against the three schools. On the women's side, the Vikings dominated in foil.
Led by freshman Rebecca Albrecht and junior Katherine Ling, Lawrence posted a perfect 18-0 record. The other categories also had winning scores as the women succeeded in sabre 14-4 and epee 13-5 against their two opponents. "It was good to dominate like this," reflects Jones. "It was a good start to this term and this season."
Looking ahead, the Viking Fencing team is preparing for more high level tournaments. "We're going to be looking to qualify for regionals, which is a big deal," says Jones. "We're going to be working hard this week to make sure that we're in shape and ready to go for this weekend."
The fencers keep themselves sharp by working hard in practice throughout the week with plyometric drills focusing on agility as well as cardio work. After this, the athletes will then move on to footwork drills that work on isolating the lower body and improving muscle memory.
Finally, the Vikings will move on to blade work, practicing techniques and bouting, which are the individual fencing matches. With all of this preparation, the Viking fencing team looks forward to their upcoming tournament at Northwestern this weekend where they will compete against teams from across the country.