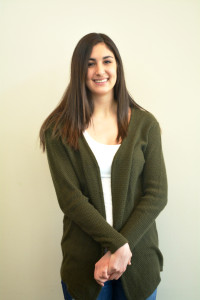 By Gabriel Armistead Chapman
This week, I sat down with freshman forward Elizabeth Arco of the Lawrence University Women's Basketball team to talk about adjusting to the game at the collegiate level and her impressive game against Knox College on Saturday, January 31.
Gabe Chapman: How would you rate your personal performance on the court so far this season?
Elizabeth Arco: Well, at the start of the season I was just trying to get used to college basketball, and now I feel like I kind of am getting into the groove of it and picking it up a little. I don't know, I'm just trying to find my way.
GC: When did you start playing basketball?
EA: I started when I was in fourth grade, and I've been playing ever since—but not seriously until high school.
GC: How has the transition from high school to college been for you?
EA: It's a lot faster of a game. The girls are bigger. It's definitely a different style of game, but not too crazy.
GC: Have you always played forward?
EA: Yeah.
GC: What do you think the team should try to accomplish going forward? What would you like to see happen as a team?
EA: I think this year has been a big growing year for us. We're definitely trying to figure some things out. There are seven freshmen on the team, and that's hard when you have so many young girls. So I think now moving forward we know how to play with each other, we know what to expect, so I feel like next year will be very different because we'll have more experience under our belts. I'm excited.
GC: What do you like best about the Lawrence team?
EA: I love my teammates more than anything. They make it so much fun even though it has been a rough season. I get along with them all so great. It's fun.
GC: Do you think you will play all four years at Lawrence?
EA: Yes, I do.
GC: Nice. The scholar-athlete relationship is great here.
EA: Yeah, I like that you can do both and it's not so hard to manage the two. The coaches are understanding and the professors know that when we have a game we might have to leave early. I really like that about Lawrence.
GC: Your stat line from the last game was pretty impressive. What did you do differently that game?
EA: I was just really pumped up for that game—my whole team was. I would not have been able to do that without my teammates. The big thing we did was they pressed us the whole time so I was at the other end of the floor and [my teammates] just kept passing through that and finding me. I wouldn't have been able to do it without them.
GC: Do you have a favorite professional basketball player? And why?
EA: Joakim Noah of the Chicago Bulls for sure. He's such a team player; he just wants to win and doesn't care. He just does his thing. He's so cool—I love him so much.