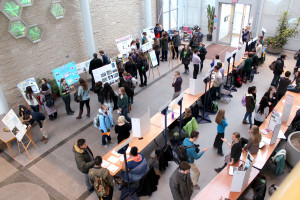 By Ruby Dickson
On Thursday, Jan 29, Lawrence University's Career Services and the department of Environmental Studies (ENST) held a joint internship celebration and showcase of field study opportunities. The event was held in the atrium of Steitz Hall and was attended by students, faculty and community members alike.
This event served as the fifth annual internship summit and the fourth annual environmental studies fest, but was the first time that the internship summit and Environmental Studies Fest were jointly held. Tricia Plutz '03, who organized the Career Services side of the event, stressed that "It was a nice partnership between Career Services and the Environmental Studies program," and an opportunity for students from all departments to "showcase their engaged learning opportunities." Walter Schober Professor of Environmental Studies and Professor of Geology Marcia Bjørnerud, the primary organizer of the Environmental Studies part of the event, was pleased with the increased turnout from the combined showcases.
Thirty-four students presented their individual experiences at the joint event, each displaying a booth and speaking to visitors about their work over the past year. Along the eastern side of the Steitz Atrium, Environmental Studies students showcased their experiences in satisfying the ENST Field Experience requirement. Among the booths, senior Lissa Ballo presented an initiative to capture items and materials that are not currently being recycled on campus, through an organization called TerraCycle. Other students presented Environmental Studies experiences in a range of subjects and locations, from a summer at sea to Lawrence's very own SLUG. Bjørnerud noted that the diverse nature of Environmental Studies student experiences " reflects how energetic and adventurous ENST students are."
On the western side, meanwhile, students from many other departments discussed their experiences with internships, shadowing experiences, and research opportunities over the past year. This event was intended as "a great way for students to articulate what they learned through their experiences and to give back to the Lawrence community by sharing their connections and experiences with other students who wish to obtain similar opportunities." Ali Heiring '16 displayed her summer experience at Hurar Investment Group in Spain, while other students spoke of their varied opportunities working at places such as Harbor House, the Gladstone Institute of Cardiovascular Disease, and the Boys and Girls Club of America, as well as at many research universities.
Students who attended the joint event saw it as an opportunity "to learn about different internship/field experiences that our fellow students obtain and to learn that it is possible to create your own unique experience." As there were opportunities available for a wide range of locations, fields and interests, students could find information about many experiences which might interest them, or help them to further their learning experiences in Environmental Studies. Internship Coordinator, Tricia Plutz, emphasizing her satisfaction with the quality of student presentations, said that "all of the presenters provided unique and exciting experiences."
Organizers saw the event as a success, with at least 80 community members in attendance. Both the ENST Fest and Internship Summit are slated to occur again next academic year, in order to showcase Lawrence students' future internship, research, and field experiences. Organizers have not yet decided whether these events will continue to be held in cooperation.