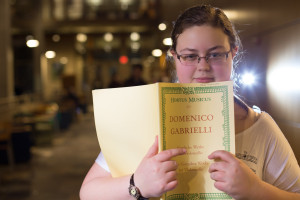 Few things have a stronger pull on the human spirit than beauty. We as a species love to be captivated, to be in awe, to see the world through rose-tinted glasses. It is no wonder then that so many people dedicate their lives to creating beautiful works of art. Such is the vocation of senior Elise Massicotte, who communicates her aesthetic through music.
A Bachelor of Arts in music, Massicotte has played the cello as her primary instrument since she was seven years old. She has always found the positive impact that music can have on one's brain, to both the performer and the listener, to be incredible. This influenced her decision to pursue music in higher education.
"I've seen how much joy it brings people," said Massicotte, "how it can change lives for the better. I'm also kind of a sucker for beauty, so I love being able to produce something so exquisite."
Like dance, however, the gracefulness of music can come at a cost. Massicotte cites physical challenges as the most difficult part of playing the cello. Since her senior year of high school, her artistry has resulted variously in tendinitis, muscle pulls and nerve pulls. Playing an instrument like the cello is more demanding on the body that one might think. That said, those sublime noises that only a musical instrument can achieve keeps the musician going.
"There's a moment when I'm performing when it just hits me," said Massicotte, "and I remember why I'm playing. Because often it's just me practicing and practicing and practicing. All that technicality. And then all of a sudden I'm playing in the chapel and it's sunset and the sun comes down through the stained glass windows onto me and I'm like 'Oh yeah! This is why I do this. It's a beautiful pursuit.'"
Massicotte prefers to play chamber music, a broad category of classical music that is played by a small group. The small amount of musicians allows for greater intimacy and communication between them. It also cuts down on the stress of performing solo without being lost in the sea of a full orchestra.
"I love the community," explained Massicotte. "I love being able to play with other people and talk about music. We all rise and fall together in the Con, it's kind of nice."
On campus and outside the conservatory, Massicotte is co-president of the LU Unitarian Universalists, a frequent volunteer through the Volunteer Center, a worker with in SLUG, a member of the National Alliance for Mental Illness and, occasionally, a swing dancer.
After graduation, Massicotte intends to learn how to teach cello privately and get started on a studio. She is also considering starting up a music academy in a poor area so as to give underprivileged people the opportunity to learn music.
Her senior recital will feature a Russian sonata, a Spanish piece, and a set of baroque music. A piano accompanist will be with her for two of the pieces, but she will perform on cello solo for the baroque. It will be held in Harper Hall at 8 p.m. on Friday, February 20.