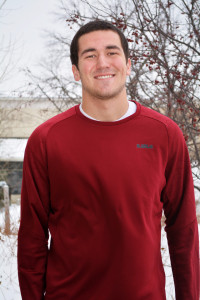 By Gabriel Armistead Chapman
This week I sat down with Senior guard Ryan DePouw of the Lawrence University men's basketball team. DePouw recently became the 22nd player in Lawrence history to score 1,000 points in a 100-67 blowout win over Illinois College on Saturday, February 7th, scoring 26 points on 8-of-13 shooting from the floor.
Gabe Chapman: Scoring 1,000 points is quite an impressive achievement. How does it feel to be part of that special group of players?
Ryan DePouw: It's really cool. It's never been something I was shooting for, but it's something I'm proud of. I've put a lot of time into basketball, worked hard freshman through senior year, and it's neat to always have that milestone to look at. To see your name up there with all those other great players who put on the jersey before.
GC: Looking back on your career at Lawrence, what are you proud of (aside from reaching the 1,000 point mark) and what do you wish you could've done differently?
RD: I wish we could've gotten a few more wins; we've been so close to the conference tournament. Every year since I've been here, we've been in fifth place, and if we can finish strong this year, it looks like we could end up fifth or sixth again, right at the top-four echelon … just maybe played a little better in close games down the stretch if I could do it over again. I'm proud of a lot of things—making it through four years of a college sport and not having my body break down is a solid athletic achievement. I'm proud of the interactions I've had with my teammates. I feel like I've been a good teammate and most people have enjoyed playing with me. I've had a lot of fun.
GC: So as one of three Seniors, how have you approached roles of responsibility or leadership within the team? Do younger players look up to you?
RD: Yeah, I try to lead by example—be one of the first people in the gym and one of the last ones to leave. Give guys tips, be around the block I guess you could say. I've been through a lot of games and all the trips, and we have a lot of younger guys on the team so I fell like our roles have been important in not only helping them this year but also for the future so hopefully they can lead us to more wins and successes.
GC: What first drew you to the game?
RD: I've always loved basketball. My sisters put a photo of me on Instagram shooting hoops and dunking a ball [from] when I was two. It's always been a big sport in my family. Basketball has always been the most fun for me. I was pretty short until High School where I had a four or five inch growth spurt, and then it got really fun to play. I imagine I'll be forty or fifty years old and still shooting around or playing as long as I can.
GC: How has your game has changed since freshman year?
RD: Good question. When I came into college I relied a lot more on athleticism—just being able to jump and run. I would say I had a decent basketball IQ, but at that point I couldn't read a screen or understand the intricacies of the game. I think right now I'm fairly confident that my decision-making has gotten a lot better, just knowing where and how to get open. Defensively I've improved a ton; I used to just chase my man around aimlessly but now I understand how I fit in with the team. And I've put on a lot of strength, which has helped a ton with drawing fouls and getting to the basket.
GC: What's your favorite part about being on the LU basketball team?
RD: The friendships by far, I've made some of my best friends from playing basketball at Lawrence. Guys I couldn't imagine not being a part of my life. It's a really neat thing to be part of a team that's so close.
GC: What are your hopes for the rest of the season?
RD: I just want to finish strong, play hard and have fun. Just go out the right way I guess. It's been a kind of reflective phase for me at this point in the season and my career. It would be nice to go out with a bang.