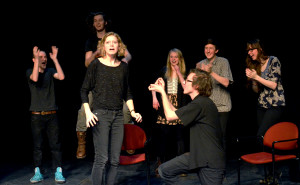 By Lizzy Weekes
On Friday, Feb. 13 the Optimistic Feral Children stunned with yet another riotous improv show.
The atmosphere seemed inviting as I walked in to Cloak Theater. I was handed a Valentine at the door. As I found a seat, I was handed more Valentine-themed stickers, Teenage Mutant Ninja Turtle-themed. I felt loved.
Down upon the stage, co-director and senior Portia Turner danced to incoherent nonsense, an amusing sight, to say the least.
Other improv members—sophomore Sarah Axtell, sophomore Kip Hathaway, junior Micayla Hutton, freshman Leo Leventhal and sophomore Ridley Tankersley—joined until the stage looked like a mad congregation of drunks. The mania only stopped once junior Jon Hanrahan, other half of the directing team, spoke up, giving a brief welcome for the night and introduced the "Haunted Date."
Hanrahan asked for audience members looking for love on this Valentine's Eve. Sophomore Willa Johnson and Noah Gunther were volunteered and seated at a table and chairs on stage—horrendously awkward conversation followed. The audience's job was to keep away a nasty troll, Leventhal, by "wooing" like ghosts. If not shooed in this way, the lovely couple would be eaten.
Sadly, our "wooing" did nothing and they died.
Next was a "Whose Line Is It Anyway?" style game. We were asked for world's worst professions. Suggestions included chiropractor, ski instructor, body builder and lifeguard. Improv members clapped back and forth with their best impressions. Hathaway earned deserved bouts of laughter with his body builder who ate weights to build up a muscular physique.
Meanwhile, the Children moved on to a game titled "Meanwhile." Groups of two—Turner and Hathaway versus Leventhal and Tankersley—played upon each other in different settings. Turner and Hathaway began on a ladder and threw the quips back and forth with the others, ending up somehow in a Jacuzzi in hell.
The following game was ironically called "Ladder," with a focus on birds. Turner began on the stage as a bird, and with each member added, the scene changed. Axtell came on as an angst-ridden teen, giving her mom—Turner—the bird. With Haranhan, the three became a group of jailbirds plotting acquittal, and Hutton transformed the scene into a bad beach bash where alliteration of b was emphasized. Hutton was sent packing with a "bon boyage" from Axtell and the scenes became unpacked, going back down the ladder, until Turner was again alone.
A final game of "Directors" left the audience roaring, a great final impression. The Children began with a weird first date between Hutton and Tankersley. They ate feathery tomato soup and watched a cardboard box on which played a show with a senator, played by Hathaway, a talking dinosaur, played by Axtell, and sentient plant, played by Leventhal. Let's just say the date was not going well.
This sparked a preschool where everything was under control. Turner, the teacher, made sure Leventhal, the preschooler, built his blocks in just the right order. "Four blocks makes a mess." The scene displayed a truly sad hilarity.
Tankersley and Axtell were a couple expecting, and things were not under control. Tankersley displayed an extremely stressed-out father. It only got worse once Axtell birthed twins—Hathaway and Haranhan. The two shot out from underneath in a way I can only explain with, "You had to be there."
Tankersley's incredible rendition of a stressed out father was continued with a scene of the character's job. He worked, well really didn't do much, for the senator, Hathaway again. His incompetency meant he must be sent back to preschool.
The controlling teacher tried her best to control Tankersley's dysfunctional character to no avail. The stress was too much.
A world where talking dinosaurs and humans coexist was explored. Soon, we arrived at the sermon of Dinosaur Jesus, played by Haranhan. Unfortunately, no one could record his words due to tiny T-Rex arms.
Sentient houseplants, too, were represented.
But soon we came back around to Tankersley and Hutton's fourth date, where Tankersley was ready to pop the question, a completely believable scenario. The proposal began innocently .. until Tankersley started singing. Every member came on stage with a different part. The musical number seemed rehearsed with choreographed dance moves and planned harmonies. Craziness was inevitable as the music continued. Tankersley and Hutton finished the grand scene with a hyperbolic smooch.
All in all, the madness was quite successfully hilarious.