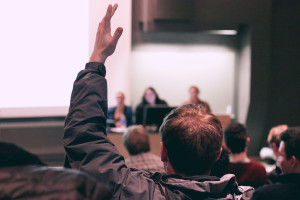 On Monday, Feb. 9, the Lawrence University Community Council's Residence Life Committee proposed several changes to the way group housing is established on campus. General council tabled the legislation, but will vote on it Monday, Feb. 23, unless the Residence Life Committee wants to revise the proposal and present it again, which will mean waiting another two weeks to vote.
Wednesday, Feb. 18, students were invited to attend a panel in the Wriston auditorium where members of the Residence Life Committee, including chair Jenni Sefcik, explained the legislation and what it would mean for students living in campus houses. Approximately 50 interested students attended a brief presentation from the Residence Life Committee, after which the floor was opened for questions.
The proposed changes to housing policy will have campus groups requesting a house have to apply for a single year of housing at a time, instead of applying for a group housing agreement that lasts multiple years. While single-year housing agreements applied to theme houses in the past, the new legislation would require formal group houses to submit a housing application on an annual basis as well. The agreements that establish a group house once a housing application is accepted are known as "compacts."
The legislation would also disband the ad-hoc committee that currently controls formal group housing, putting that responsibility in the hands of LUCC. LUCC currently decides theme housing only.
"As of right now, group housing is divided into formal and theme housing… the new system would put everybody into the same pot" stated Sefcik, who helped draft the new housing legislation.
If passed, the changes will go into effect this spring, meaning houses whose compacts are ending will fill out the yearly applications. Groups whose housing compacts are not ending will not be required to fill out the yearly applications until their compacts are up.
Sefcik said that when the Residence Life Committee was deciding on a length for the new, universal compacts "three years was out of the question" because so many formal group houses have suffered from a "lull year" – the second year a group is living in a house, when the group living in a house is less inclined to take an active role on campus because of their longer living compact.
However, Sefcik explained that the new housing policy was not meant to make it more difficult for organizations to remain in a campus house for more than one year at a time. "I can see where it's threatening and it seems like we're trying to kick [residents] out, but we're not. We're just holding them more accountable. Instead of telling us what they're doing every three years, they're telling us what they're doing every year… and the application is so much shorter than it used to be."
Not every member of LUCC is in favor of the housing legislation in its current state. Aubrey Lawlor, a senior class representative for LUCC, explained "though this legislation seeks to address some obvious problems with the current system, it does so without considering holistically the various repercussions that would accompany implementation. That being said, I think Steering Committee has come up with worthy and effective compromises. We hope to propose these at the next general council meeting and can hopefully collaborate with Res. Life to get this improved legislation approved sometime this spring term."
Nancy Corona, also a senior class representative said "I think more concrete evidence is needed before making such a change. In terms of formal group houses that often have long-term goals, while a one year compact may lead to more groups to living in a house that doesn't necessarily mean that the quality of their experience living in the house will be the same knowing that they may only be there for a year instead of three."
Senior Tom Sasani, member of the Residence Life Committee, explained that increased competition could be positive for group living on campus. "Requiring re-application each year will do a couple of positive things. First, it will give more groups the opportunity to apply for houses more frequently. Second, I think it will act as a sort of 'self-regulation,' since houses that do not live up to expectations will potentially not be offered a house the next year… Even though applications will be considered every single year, successful houses will continue to get houses. And new, interesting ideas for houses will have equal consideration."
Abedin Rafique, sophomore LUCC officer, had mixed feelings about the proposed changes. "I strongly believe a change is due. There are several clauses in the current formal group housing compact that no longer make sense," he said, however, he went on to describe problems he sees in the new legislation. "That change [to the current formal housing compact] should take into account everyone's best interests, and the current proposal fails to do so… It will harm more organizations than it will benefit groups of students who just happen to want to live together" he concluded.
Lina Rosenberg, senior and another Residence Life Committee representative said in regard to holding the two housing types to the same standards: "Combining systems holds everyone to the same standards whether they are LUCC recognized groups or not."
Rose Wasielewski, assistant dean of students for campus life, worked with Sefcik on the proposal described how the new housing system would benefit students applying to live in campus houses. "[Groups] can move up and down in house size depending on their numbers," she said, pointing out that groups with dwindling numbers have had to work to fill their houses for all three years in the past, and groups growing in size had to turn potential residents down once they were at capacity.
Amy Uecke, associate dean of students for campus life, added that groups would have "priority to pick the house they were currently inhabiting" each spring, that the new housing proposal was meant to "give students the opportunity to craft housing the way they want it" and that this system would give students more control, both in housing administration and in choosing where to live.
Attending the panel were members of a variety of campus groups including Sankofa, SLUG, the Interfraternity Council and Global Health House. During the panel, a discussion between members of the audience and the representatives occurred about the proposed changes.