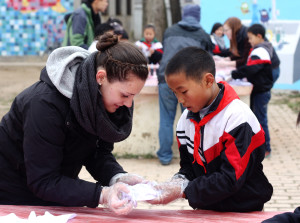 By Nalee Praseutsack
The Sustainable China Program provides students with the opportunity to study abroad for two and a half weeks in December and receive an in-depth introduction to the relationships between China's Culture, Conservation and Commerce, or the three C's.
Stephen Edward Scarff Professor of International Affairs and Assistant Professor of Government Jason Brozek, director of the program, describes the program as "a gateway or springboard for students to engage with these issues." He has seen many students pursue more Chinese, environmental or economics oriented classes after going on the trip because it helped to enforce their interests.
Professor Brozek emphasized that the program is not "a Chinese capstone" and is directed towards students "with a diverse background." While the program does require a term of Mandarin Chinese, no background in the language is necessary. The purpose is to bring together students with interests in the culture, conservation and/or commerce in China, rather than focus only on the Chinese aspect.
The program is meant to "examine the connections between culture, conservation and commerce through the lens of China," according to Brozek. He originally became interested in the program in 2008 "not because I'm a Chinese scholar," he said, "but because I'm interested in international education and study abroad."
This is meant to be an "engaged experience and not passive tourism," said Brozek. While an academic setting is involved, the program also involves service projects that actively investigate the connections between culture, economy and conservation talked about in the prerequisite classes.
The program requires accepted students to take a term of Chinese language at their level and the "Sustainable China: Environment and Economy" class in the Fall 2015 term to properly prepare them for their trip. These prerequisite classes are meant to "give students a pretty good preparation … to talk with people and engage in things," said Brozek.
The on-campus prerequisites are meant to "make study abroad more accessible," said Brozek. With the background and preparation done on campus as part of the program, students don't require an extensive background in Chinese or other aspects before joining the program and studying abroad. The classes also open the program from more than just language, but to social sciences as well.
A study abroad is about "understanding your role as a carrier of culture," said Brozek. The experience is for learning, but students should also understand that they carry an innate "filter through which they perceive other cultures." Studying abroad helps students to both experience a new culture and see how it relates to their own.
In his experience, the program has been rewarding for many students both academically and personally. "We try to build in opportunities for reflection," Brozek said. With so much going on over a relatively short span of time, reflection throughout the trip helped students document and comprehend their experiences.
In 2012, Lawrence received a $400,000 grant from the Henry Luce Foundation to help fund the program. The money has and will be used to provide faculty development and exchanges. It is also used to help students return to China if they choose to do further research.
Freshmen and sophomores are strongly encouraged to apply. The money from the Luce Foundation can be used to send students back to China for summer research, senior projects and even potentially going back after graduation. The earlier the engagement with the program, the more opportunities students will have in the future.
Interested applicants can email Brozek for the application or with more questions. The application seeks to gauge interest and how and why applicants think they will benefit from the experience. Applications will be due April 10.