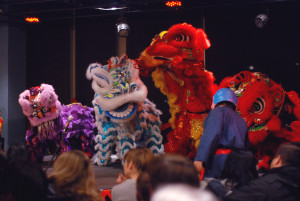 By Lucy Pipkin
Lawrence students and local families gathered in the Warch Campus Center's Esch Hurvis room on Saturday, Feb. 21, for the annual Lunar New Year celebration. The event began with cultural performances from traditional Chinese lion dancers and a Korean "K-Pop" dance troupe. This was followed by activities and booths hosted by student groups to showcase the wide variety of cultures and traditions.
The Lunar New Year is a celebration for cultures that use the lunar calendar, (while western countries typically follow the solar calendar.) This year is the year of the sheep in the lunar calendar.
The cultural performances began at 7 p.m. with traditional Hmong dances performed by Nkauj Hmoob Ntsias Lias, a troupe of girls ages 13-17 from the Appleton area who performed dressed in traditional costume.
Next was a more modern hip-hop oriented performance of Korean "K-Pop" dances by the Minnesota K-Pop Dance Crew from the University of Minnesota. The performances ended with a Traditional Chinese Lion Dance by the Zhong Yi Kung Fu Association from Madison.
Activities at the cultural expo ranged from origami taught by the Waseda students from Japan to calligraphy and tea tasting by international students from China. Korean Culture club, Asia-A and Vietnamese students all hosted activities and tables as well.
Thanks in part to a preview of the event on the local Fox 11 channel the morning of the event, the audience was full. Vice president of Korean Culture club and Junior Jason Park emceed the event. "I definitely [think] the news had a great role in bringing more locals to the event," Park said.
"It's a good event because a lot of community members come to this," said junior anthropology major Jaime Gonzalez who attended the event.
"I think it's very positive," said Park. "I think it's good to have in-school events, on-campus events, but having a close link with locals is essential, especially for cultural exchange."
This is the fourth year the Lunar New Year event has been a collaboration between many Asian cultural groups compared to its prior years as an event only hosted by Asia-A. International Student Services director Leah McSorley and Office of Multicultural Affairs Assistant Dean of Students Pa Lee Moua were the faculty advisors for the event, but the students on the Lunar New Year committee chose which performance groups to invite and what activities to have at the cultural expo.