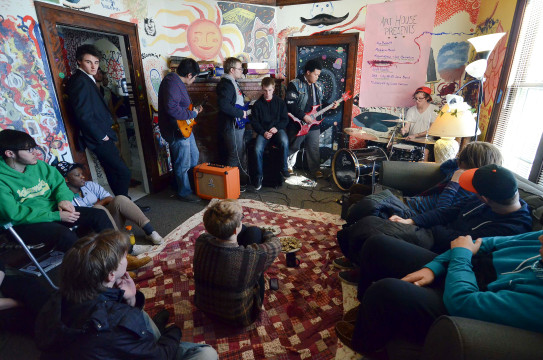 I was lost. I was supposed to cover Art House's End of the Month exhibition, but on the way there I'd forgotten exactly how to get to Art House. I was just about to give up when I heard a sound.
Cool waves of synthesizer washed over my ears, and I followed the sound. It wasn't recorded, but being performed by senior Alex Babbitt. I found the house and realized it was right in front of me all along.
Such was the power of the show at Art House that eventful Saturday. Even if you didn't know where you were, you would make your way there somehow.
After the electronica came singer-songwriter freshman Madeleine Moran, using the same piano the electronica artist had used. It gave a mysterious, alluring sense of community to the show, of art that continued and built on what came before. A woman singing about the end of fairytales had just as much in common as electronica splashing out into the crowd.
Vocal emphasis continued with junior Margaret McNeal and junior Jon Hanrahan, performing an excerpt from the "time" aria from Act I of "The Tender Land" by Aaron Copland. It was only a single phrase "Time Grew Heavy and Slow" repeated ad infinitum, with the piano playing the same line. As the song continued, they slowed down the excerpt more and more until it was like watching a video in slow motion. If it sounds silly, it absolutely wasn't: Everyone was captivated until the very last refrain, when they went as slow as possible just to make the audience laugh.
After that came sophomore Willa Johnson and sophomore Sam Pratt, of the delightfully named group Hippie Bullshit, an audiovisual improv team made up of a saxophonist and a painter. One painted on the wall as the other improvised on the saxophone. Or was it the other way around, the painter improvising to the music of her partner? Either way, the result was captivating.
After a break to set up everything, we were treated to sludge/grind/noise hellions Stiff Towels. They only had one amp, but it sounded like they had six. The real showcase is not song here but sound, and it sounded like a tidal wave made of wolves. In other words, it was totally awesome.
Lastly, but certainly not least, was the Sk8 City High School All Star Jazz Band, a band consisting of Ridley Tankersley, Christian Carroll and Pratt.
After an introduction where a blazer was thrown on my face and a spoken word interlude where the members spoke everything simultaneously and detailed their set-list, they were off and running. They may have had "high school" in their name, but they played like they were decades older. This was sophisticated ska we heard, delicious to the ear. Any group that performs "Take Me Out" by Franz Ferdinand as well they did deserves all the praise I can give them.