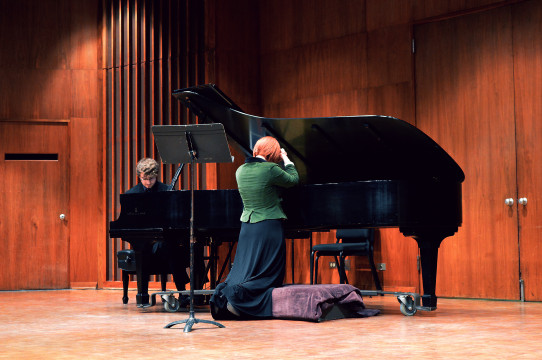 By Izzy Yellen
It's not often one has a chance to see many of their classmates' compositions performed, but on Thursday, February 26, about half of the composition studio was featured in a recital in Harper Hall. The concert had a myriad of intriguing pieces, covering many genres.
While I would love to write a lot about each piece, I simply don't have the space to do so. However, the recording of the entire concert will be available to listen to in the library. I hope you can do so and hear the talent of your peers.
The concert opened with "ohm," a piece for soprano saxophone and electronics composed by sophomore Jason Koth. It had an ethereal sound and calming minimalism akin to Brian Eno's ambient music or Aphex Twin's "Selected Ambient Works Volume II." While all the pieces had different instrumentations, this piece stood out the most sonically due to its unique combination of acoustic and electric timbres.
It was followed by two art songs—solo voice and piano—and an oboe solo with piano accompaniment, composed by freshman Christian Messier, junior Christian Carroll and freshman Christina Hanson, respectively. They were much more traditional than the other pieces in the program, but still showcased beautiful textures and refined lyricism.
After these three was sophomore Dominic Ellis' piece for clarinet, bass clarinet and piano. What set apart his piece from the others was Ellis' use of silence. In the six minute piece, there was about a minute of silence, rationed through the duration, with one moment lasting fourteen seconds. It's not often composers use this much silence, but in "Automata," it was incredibly effective, toying with the psychoacoustics of the listener.
Sophomore Nebal Maysaud's song "Holy Doubts and Empty Prayers" for soprano voice and piano closed the first half of the concert. The piece dealt with the idea of being spiritual without being religious and Maysaud's thoughts on that. He incorporated various texts and his own personal experiences to compose it.
Two out of three of the pieces from the second half of the concert were composed by junior David Voss. The first was for violin, cello, double bass and percussion and had a broken, yet grooving feel to it. Overall, it consisted of many strange, but alluring sounds. His second piece, a Pablo Neruda poem set to music was quite different. The soprano and tenor voices, accompanied by organ, provided pleasing harmonies that sounded a bit folky. Hearing two contrasting pieces from the same composer displayed Voss' keen ear and versatility.
The penultimate composition, "Flicker," was a driving piece composed by sophomore Isaac Mayhew. Composed for alto saxophone and marimba, the piece displayed a wonderful blend of contemporary classical music and Middle Eastern-sounding music. Both instruments accompanied each other, instead of one being the solo, creating a balanced and full sound. It was very enjoyable and relaxing to listen to.
The recital was a fantastic experience to see and hear. I, and the rest of the audience, were given a glimpse as to what they all do outside of the practice rooms and rehearsals.