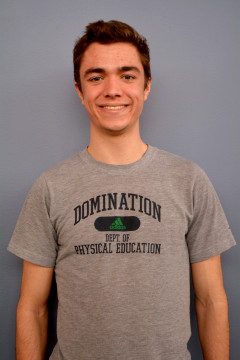 By Gabriel Armistead Chapman
This week, I sat down with sophomore Max Edwards of the Lawrence University Men's Track and Field team. This past weekend Edwards won his first conference title in the 5000-meters at the Indoor Track and Field Midwest Conference Championships in Grinnell, Iowa with a time of 15:44.64.
GC: First off, congratulations on your victory in the 5000-meters. How does it feel to be a MWC champion?
ME: It feels incredible. I was fortunate enough to be a conference champion in high school and I made it my goal to have that same feeling in college of being the one who comes out on top in a big meet. And things lined up really well this past weekend. It feels good, and kind of justifies all the hard work I've put in over the last few years, and it's an honor.
GC: How prepared did you feel going into the weekend of Conference?
ME: I guess the short answer is I felt fairly prepared. This past cross country season I had been running a lot more miles and with higher intensity, and kind of burned out at the end of the season. So Coach Fast and I took a very conservative approach coming into this indoor [track] season, where I was making sure I was on the side of under-doing it rather than over-doing it. There were probably guys in that race who had put in a lot more workouts this past winter, so from that standpoint, I had to trust in the fitness I had been able to build over the past few months after a long break after the Cross Country season. So I feel like I could've been more prepared, but at the end of the day I'm really glad we're taking this conservative approach with my training so I can make it through the entire spring season, and hopefully end on a high note.
GC: As a sophomore transfer student from Marquette University, how has the transition to Lawrence and LU athletics been for you coming from a Division I program?
ME: For me, it was just what I needed. I was really fortunate to have a spot on the Marquette team in the fall of 2013 for cross country, and it was a lot of fun, but I discovered that I wasn't quite ready to be able to budget and balance my energy between the athletic demands there and school. So that was kind of the main impetus for transferring here, where I could find a better balance between academics and athletics. And so far, it's been perfect. I get to work with a smaller team and a coach who's able to tailor things to the needs of each athlete, and for me, that has been how many workouts can I do so I still have energy left over for school.
GC: Coming into this season, did you have any idea you would have this kind of success this early?
ME: Well, Conference maintains an honor roll of each event throughout the indoor and outdoor seasons, and for this race, there were six guys within six seconds of each other leading the top six spots, and I was number six. So heading into the race, I knew I had a shot. I knew it was going to be a really tight race since all the guys had been performing really well. As far as coming into the season, it definitely was my goal to earn a Conference title, but how it happened then and a lot of things just lined up, and hopefully, it's something I can do again.
GC: How do you plan to build off this win?
ME: Well, I think the first step is to take the next week a little easier—kind of give myself a bit of a mental and physical break from the peak of the indoor season, and then work towards continuing to build a strong base for outdoors. March is the defining month for your entire outdoor season since what you do then is going to positively or negatively impact the rest of your spring athletically. The focus for the next few weeks is going to be pushing up to that level where I'm running effectively and not over-doing it, but at the same time pushing to get those optimal gains in my fitness and speed.