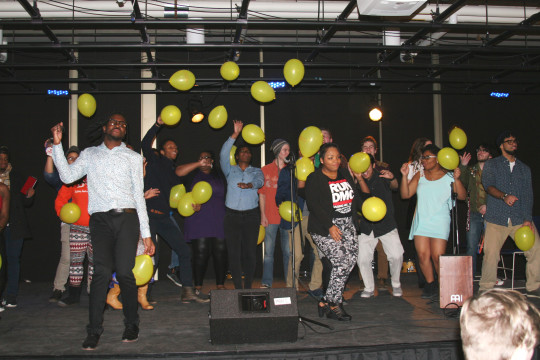 The Second Annual People of Color Empowerment Week, sponsored by All is One! Empowering Young Women of Color (AIO) concluded on Saturday, Feb. 28 with a soul food dinner and show of Cultural Expressions in the Esch-Hurvis room of the Warch Campus Center.
The week began on the previous Sunday, Feb. 22, with a lecture from Portland State University's Assistant Professor of Research Joy DeGruy, who spoke about Post Traumatic Slave Syndrome. Darkmatter, a "trans south Asian performance art duo" visited Lawrence on Tuesday, followed by a candlelit vigil in memory of Trayvon Martin on Wednesday, Feb. 25.
Junior Cheyenne Van Dyke, vice-president of AIO, explained that events like these are important to making students of color feel accepted at Lawrence. "We don't want to just display diversity on a poster, we [want to] have this system set up to keep students here … you can't just bring [students of color] here but then not have anything to make them feel included or make them feel comfortable."
On Thursday, Feb. 26, Rosa Clemente, a "freelance journalist and hip-hop activist" who ran for United States Vice-President with the Green Party in 2008, addressed approximately 50 students and community members who gathered in the Esch-Hurvis Room. She began speaking at 7:30 p.m., and finished answering questions just after 9:30 p.m.
Clemente started by speaking about being Black and from Puerto-Rico, and how people would sometimes deny she was Black because of her Puerto-Rican origins. "I am not Spanish … My ancestors are not from Spain, they are from Africa" explained Clemente. "Being Black in America is my racial Identity."
"Black lives matter … not only as a phenotype, but as a political ideology" said Clemente. "American 'mythology' is very good at leaving people out" she concluded, quoting Frederick Douglass: "There is no struggle, there is no progress'" before opening the floor for questions.
Van Dyke noted that the campus could benefit from more speakers like Clemente. "What I would like to see is more convocation speakers and university sponsored speakers to talk about things like race. Not only to educate white students, but also seek to [empower] students of color, as well."
On Friday, Feb. 27, the Beta Psi Nu sorority hosted a Body Positivity Fair in the Esch-Hurvis Room, sponsored by AIO. "We wanted to help promote self-esteem" said sophomore Mia Bowens, who helped organize the event.
Tables with information about physical and mental health were held by members of the Beta Psi Nu, Kappa Alpha Theta and Delta Gamma sororities, theInterfraternity Council (IFC) and the Downer Feminist Council (DFC).
About 30 minutes into the fair, senior Brienne Colston, prresident of AIO, asked attendees to find someone they are not already acquainted with as a partner for a conversation about body positivity. "Talk about a time where you've talked or felt negatively about yourself" prompted the first five-minute discussion, followed by a larger group discussion of the prompt. Later questions became more specific to Lawrence, such as "Is it hard to be body positive at Lawrence?" and "How can Greek or student organizations make a difference?" Colston proposed that more men should attend conversations about body positivity, "not only as allies, but also as participants in these events."
"[It would be helpful] if the Panhellenic council and IFC got together and talked about this once a term" said senior Jazmin Astwood-Padilla.
"[The fair] had sororities and fraternities that don't usually come to events together as groups … represented at our events, and we've gotten feedback from them saying that they want more of these kinds of things to happen" stated Colston.
At 7 p.m. on Saturday, Feb. 28, students and community members were invited to a soul food dinner and Cultural Expressions show concluding the week, sponsored by Black Student Union (BSU). Collard greens, sweet yams, honey-fried chicken and mac and cheese were among the foods served.
Nearly 150 students occupied seats at tables and, eventually, chairs facing the stage to eat and watch a variety of performances. The show was emceed by senior Andre Augustine, and featured hip hop, vocalists performing both original songs and covers, live bands, films covering the Lawrence die-in and dance.
"It blew my mind to see how many Lawrentians from different sectors were at our events, and cared about what we were doing as cultural organizations" said Colston. "At Cultural Expressions, which members of AIO helped plan with Black Student Union, [we] had the football team come in … just sectors of Lawrence that don't usually do a lot of work with cultural organizations"
At 10 p.m., when the show concluded, attendees were invited to a reception at Sankofa house.
While Colston felt positively about the week in general, she also expressed concern over the Lawrence administration's role in organizing these events. "It's amazing that we're able to do this as students … but, in addition to that, if this campus wants to prove itself as one that fosters diversity and inclusion, it can't just come from us every year. Campus Life, and our administration in general, need to be a part of this. They need to not just express interest and come to events, they need to be a part of the planning process."
Colston added that AIO and BSU had received support from Multicultural Affairs in attracting members of the Appleton community to the Week of Empowerment events, but that support also "has to be coming from Campus Life."
Van Dyke concluded by explaining that the Week of Empowerment could have benefitted from collaboration with other campus groups. "One thing next year I'd like to see more of is more groups working together, specifically diversity groups or groups with students of color … because of this system and how it's set up, they don't have any representation. There's only room for one group of marginalized students at a time, and everyone should have the chance to tell their story and share their experience."