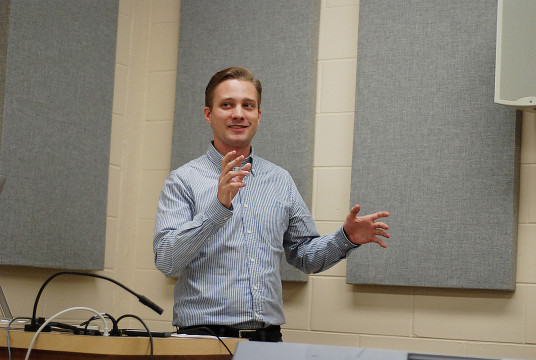 By Ariela Rosa
On Tuesday, Mar. 3, Garth Neustadter '10 gave students a brief history of music and discussed his experience as a composer for film, television and concert music at the first annual Distinguished Alumni Speaker Series. He was the inaugural speaker of the series.
Neustadter, an Emmy winner, started working in his field during his sophomore year at Lawrence, winning a competition to compose a silent film score for Turner Classic Movies.
"I saw [it] advertised, actually, in the Conservatory," Neustadter explained. "That was my very first professional project … it was very much a film music boot camp."
During the lecture, Neustadter briefly explained classical music's impact on film music and also described his creative process when composing for commercials. He introduced tracks he created for companies like American Express as examples of how his process works.
Towards the end, Neustadter provided a live demonstration by composing a baroque-style track. In roughly 15 minutes, Neustadter created a short piece using only a keyboard and a wind synthesizer. These tools allowed him to imitate the sounds of a harpsichord, violin, trumpet, celesta and other string and woodwind instruments.
Amy Ongiri, Associate Professor and Director of Film Studies, organized the event. "Even though the film program itself is relatively new, Lawrence has really distinguished alumni going back, you know, 40 years," Ongiri said.
Ongiri hopes to expose students to the wide range of possibilities in the film industry, and to allow students and alumni to connect with one another. "We're kind of far away from LA and New York, so this brings LA and New York closer," she explained.
Students from various disciplines enjoyed the lecture. When asked why she attended, Ashley Curtiss, a junior gender studies major with an interdisciplinary focus in film, indicated that she was interested in hearing an alumnus' experiences post-Lawrence.
Curtiss was impressed with Neustadter's accomplishments, stating that "with Lawrence not even having an official film major or minor at this point, it's amazing that someone can come out of that."
Hannah Shryer, a junior Spanish major, attended out of personal interest. She indicated that she appreciated the lecture and was already excited about attending the next one.
During a question and answer session, a student asked Neustadter for his secret to success. Neustadter replied that it was important to "stay open to different ideas." He also stressed the importance of getting used to rejection, stating that "rejection is part of the process."
When asked what advice he would give to current students, Neustadter replied, "Lawrence is an amazing place to embrace all aspects of the liberal arts education and being open to exploring all avenues. Even those [avenues] that might not seem related to your specific field of study might enrich it."
Ongiri was excited about the other speakers she has lined up, though she was unable to elaborate since she is working with her speakers on the final details. The next lecture is tentatively scheduled for the beginning of the Spring Term.