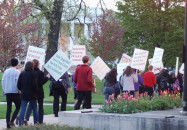 "Yes means yes, no means no! Whatever she wears, wherever she goes!"
This was one of many chants shouted by a few dozen student protesters as they marched from the Wriston Art Center to Houdini Plaza on the night of Tuesday, May 12.
The march was part of "Take Back the Night," an event that also included a lecture about domestic abuse and a candlelight speak-out for survivors of domestic violence and sexual assault.
The Downer Feminist Council (DFC) based the event on the internationally recognized Take Back the Night, a non-profit organization that began in the 1970s when women gathered to discuss the lack of safety they experienced when walking the streets alone at night.
Harbor House Community Education Coordinator Tracy Plamann delivered a lecture before the protest. She provided several facts about domestic abuse, explained how students can help victims and gave an overview of the services offered by Harbor House.
According to Plamann, one out of every three women has experienced some type of physical or sexual violence. Less than 50% of these assaults are reported to police, and women ages 16-24 are most likely to experience these kinds of abuses.
In the Fox Valley alone, there have been 528 deaths due to domestic violence situations over the last decade. Of those deaths, 427 were homicides.
After the lecture, students picked up signs and marched through downtown Appleton. The men attending used the pronoun "they" instead of "we" when chanting to demonstrate solidarity. Once students reached the square, they lit candles in a show of support for abuse survivors.
As survivors shared their personal experiences of assault and abuse, the larger group offered support by way of hugs, encouraging words and shared tears.
Members of Sigma Phi Epsilon (SigEp) wore purple sweatshirts with their Greek letters to the protest. According to SigEp Vice President of Philanthropy and sophomore Max Loebel, it was important to the fraternity that they show support at DFC's event.
DFC President and sophomore Allison Wray was pleased with the turnout and that so many were willing to share their stories.
The group had almost an equal amount of men and women, which Wray welcomed. "The more inclusive, the better," she said. "I know that DFC has been criticized in the past for being exclusive and not welcoming, and that is the opposite of what I want DFC to be."
Attendees found the experience powerful. DFC member and junior Lee Greenslit said she appreciated the way the event brought people together. "I'm sure a lot of people came and didn't think their lives were touched by domestic violence, and then you realize … everyone can relate."
Freshman Julian Cohen said that he had a limited understanding of domestic abuse and came to the event in order to learn more. "The numbers really spoke for themselves," said Cohen. He indicated he was glad to support those who spoke out during the event.
If you think that someone you know is being abused and want to help, you can reach out to Harbor House for advice and support.