Students browse clubs and organizations at the Activities Fair.
Photos by Tabarique Anwar
Lawrence's annual Activities Fair was held on Friday, Sept. 16. This showcase of Lawrence's multitude of student organizations gave students an opportunity to meet the leaders and members of various clubs and add their names to the mailing lists of groups that caught their attention. While the event was primarily geared towards getting freshmen acquainted with the campus' club and sport offerings, the fair was well-attended by students of all class levels.
While many returning clubs were represented, this year's fair boasted several new clubs, such as Respectful and Tasteful Satire (RATS) and the Makerspace Club. New offerings such as these were frequently cited by upperclassmen as being a significant part of the reason why they return to the fair each year. The fair provides critical exposure for these fledgling groups and allows them to recruit freshmen and upperclassmen, who may be familiar with previous such offerings. This ever-changing landscape of organizations reflected the changing face of Lawrence's population and culture.
A common feature of many booths this year was the offering of free items and friendly advice. Some groups, such as People for Animal Welfare (PAW) and Lawrence University College Democrats, distributed buttons, posters and stickers as a means of drawing visitors to their booths. Others, such as the Cultural Food Club, provided food. Many students were seen sporting these items while browsing the fair, giving students with mutual interests a means of making conversation with each other.
Despite the high-energy, cheerful nature of the event, many students found the fair to be a lot to take in. According to freshman Cristy Sada, the fair was "quite overwhelming," but she found that there were "a lot of cool things [she] didn't expect," citing Gamers Club as an example. She also stated that there were "lots of clubs to join and very little time to manage it all," a sentiment shared by many Lawrentians about all aspects of campus life.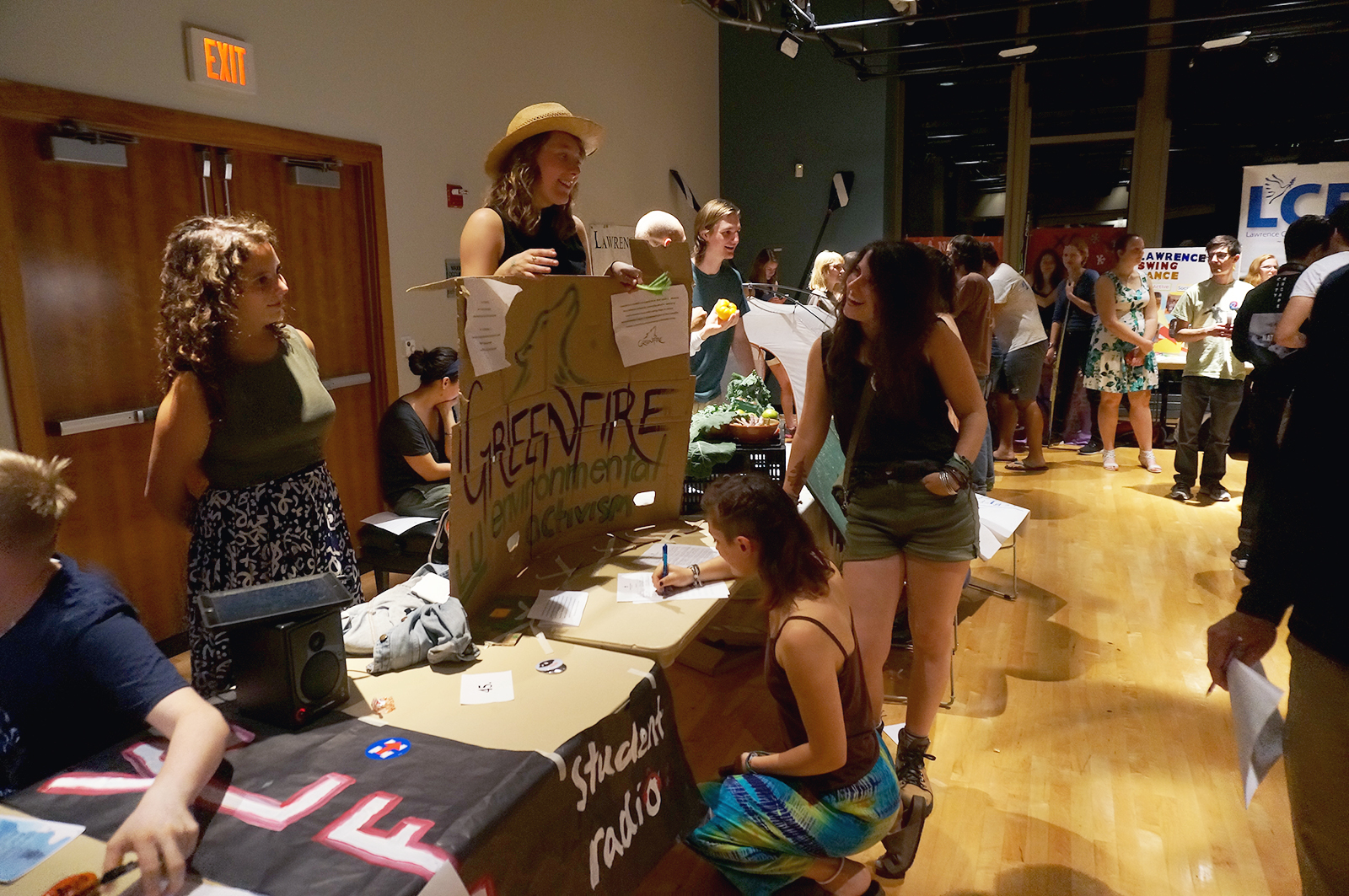 Returning students, such as sophomore Alex Gesme, praised the event's significance in establishing social contacts. He commented that it "allows us to seek out like-minded people and broaden our social skills," highlighting the event's tendency to facilitate a connection between students and clubs that can best help them flourish. The activities fair provided a learning environment for freshmen looking to get involved and make new friends, but also allowed upperclassmen, such as Gesme, to try new things.
The support of like-minded peers is a crucial part of succeeding on campus, according to many returning students and club leaders. Junior Bané Toure, who was tabling for the Committee On Diversity Affairs (CODA), said that the event's importance lay in providing students with resources to make their college experience more comfortable and enjoyable.
According to Toure, "Freshmen are lost and need a space, and the activities fair provides them with resources," as well as a way to "get acclimated to Lawrence."
At the beginning of their first year, many freshmen and transfer students may find the idea of life at Lawrence quite scary. The Activities Fair aids them in matching with clubs that can ease their transition from high school. This year's fair provided a resource for students of all backgrounds.