Lawrence would not be the Lawrence we know without the roots of Milwaukee-Downer College helping to enhance the liberal arts education, passing on memorable traditions and giving Lawrence wonderful staff members and  alumni—around a thousand of whom are living to this day.
Although Milwaukee-Downer college culture has a significant impact on life at Lawrence now, life at Milwaukee-Downer looked very different from our present Lawrence experience. In an interview, Milwaukee-Downer alumna Pat Petersen '57 said, "Our housemother was very stern in the dorm. As freshmen, light hours were enforced. We weren't supposed to stay up all night, as well as the off campus hours and so forth."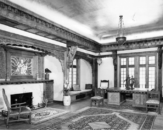 Original Teakwood Room from Milwaukee-Downer.
Photos courtesy of the Lawrence University Archives
Formed in 1895, Milwaukee-Downer was the combination of Milwaukee College and Downer College of Fox Lake, Wisconsin, both of which were women's colleges. Students and faculty members transferred to Lawrence University in 1964 when the eastside Milwaukee campus was sold to UW-Milwaukee. When discussing the college in "The Milwaukee-Downer Woman" by Lynne H. Klienman, Milwaukee-Downer's first president Ellen Sabin stated, "the women's sphere had indeed expanded beyond what she had formerly considered its proper boundaries, the home and the classroom-to the world outside."
Peterson continued on to say that "Everyone now has a cell phone all the time, but we had to go to the office to pick up our phone call. That's where the only phone was." Mondays through Saturdays, the women would be woken up at 6:30 a.m. by a "rising" bell and Sundays they were given until 7:30 a.m. They'd be expected to be at breakfast half an hour later. Lunch was more informal and was served at 12:30 p.m. and dinner at 6 p.m. The schedule for the academic classes was applied to the whole student body and carried throughout the day. They were also expected to go to chapel every day. It's a good thing we only have quiet hours to abide by in the dorms now!
Some of the Milwaukee-Downer traditions and objects passed on to Lawrence can be seen today, such as the tradition of assigning each class a color—red, yellow, green or purple as well as variations of the Hat Hunt. Milwaukee-Downer gave Lawrence the sundial on the south side of Main Hall, and the Teakwood Room at Milwaukee-Downer's campus is now reassembled in Jason Downer Commons in Chapman Hall. The legacy can also be seen through the Milwaukee-Downer Room in the Seeley G. Mudd Library that contains Milwaukee-Downer's rare book collection and memorabilia, and the group of Hawthorn trees by Colman Hall called Hawthornden.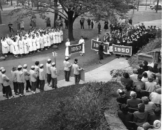 Class of 1953 gets their class color.
Milwaukee-Downer had many amazing women, but one graduate in particular touched the lives of the college. Liz Richardson '40 was a part of the Red Cross service, and was killed in an airplane crash in July 1945 at the age of 26 on the way to Paris. She had a creative mind which was evident through the cartoon character she designed called Beulah who mimicked the life of Milwaukee-Downer women. Wearing "outfits" consisting of a cardigan, skirt and saddle shoes, she even had a boyfriend named George. Richardson satirized life at college with the rest of the students and faculty. She also wrote short stories and poems, of which some were published in the "Undergraduate Verse," a Milwaukee-Downer bulletin in 1950. She was the only student from Milwaukee-Downer who passed away during World War II.
When asked about her time at Milwaukee-Downer, Marlene Widen '55 shared "It wasn't my college of top choice at first. I went because of it's affordable price of $350 per year. It felt a whole lot like family there. We didn't have sororities, but we bonded as a class. It was the best school I could have ever attended no matter what." Widen graduated from Milwaukee-Downer with a double major in sociology and Spanish and a minor in psychology.
Klienman states that "The "Milwaukee-Downer Woman" of the twentieth century was increasingly characterized by an independence of mind and action that enabled her to meet all manner of challenges;" Milwaukee-Downer College not only gave to Lawrence, but also gave to the women in attendance. The students needed education in order to acquire jobs, but they also truly wanted to learn.