On Sunday, Jan. 29, 2017, a candlelight vigil was held in front of the Lawrence Memorial Chapel. Appleton residents, members of community groups including World Relief Fox Valley, and Lawrence University faculty and students came together to protest the recent executive orders on immigration.
The orders, signed on Friday, Jan. 27, suspended all refugee admissions for 120 days, barred immigration from select countries for 90 days and blocked Syrian refugee entrance into the U.S. indefinitely. The orders also affect green card holders, students and visitors, preventing many from traveling to the U.S. Since Friday, protests have taken place around the country, many of them in airports.
Stephen Edward Scarff Professor of International Affairs and Associate Professor of Government Jason Brozek helped plan the event. In an article published in the Post Crescent  on Jan. 29, Brozek said, "We stand with refugees and immigrants in the Fox Cities and around the United States."
The vigil at Lawrence University started at 7 p.m. Small white candles were lit and provided to attendees. Some attendees brought signs protesting the recent executive orders and supporting community members most affected by the change in administration.
Individuals volunteered to speak out against the immigration policies and encourage inclusion and community. Several attendees led the group in songs and chants, including the song, "This Little Light of Mine."
Some speakers recited poetry or speeches in response to the events of recent weeks. Many emphasized a call for activism and encouraged attendees to engage with local administration on recent political issues.
The group cheered when cars passing by on College Avenue honked and after speakers concluded. The vigil ran past 8 p.m., even as the wind and cold weather buffeted the crowd. See page 2 for photos of the vigil.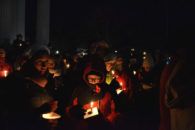 Students, faculty and community members came together for a candlelight vigil to protest President Trump's recent executive order. The vigil was impromptu, and most students learned of it through social media.

Photos by Emily Midyette