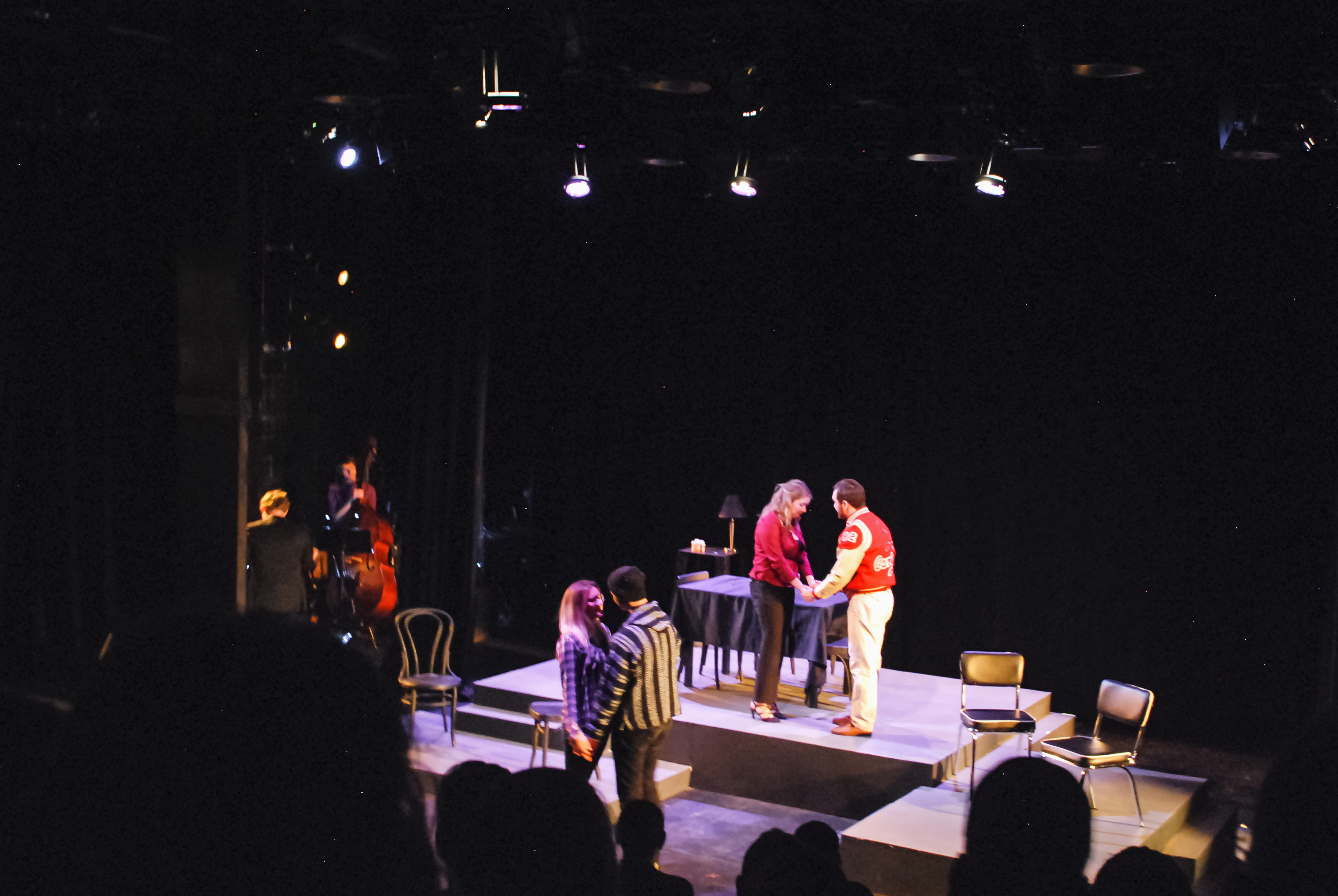 SPAMALU's "Next to Normal."
Photos by Hikari Mine.
Sunday April 16 was the closing night of "Next to Normal," a musical produced by SPAMALU. Over the weekend, two casts performed a total of four shows for excited crowds in the Cloak Theatre. Outstanding production value and strong musical direction made for a memorable and meaningful performance.
"Next to Normal" launched on Broadway in 2009 to positive critical reception. Over 700 performances were given until the original casts stopped touring two years later. Now it is performed at all kinds of theaters around the country.
SPAMALU, short for Student Produced Amateur Musicals at Lawrence University, rehearsed ceaselessly this winter and spring to bring "Next to Normal" to life under the direction of senior theatre major Lauren Abdul. In the program notes, Abdul said that she "wanted to do a show different from anything that has been done at Lawrence before." Staging a production that involves themes of mental illness and suicide was a challenging and powerful learning experience for those involved.
"Next to Normal" examines the internal struggles of the outwardly normal Goodman family. The first scene takes place early in the morning around the kitchen table; each family member is introduced in turn. In the Sunday night performance, sophomore Maggie Smith played Diana, a mother struggling with bipolar disorder. Her husband, played by sophomore Sam Taylor, spread himself too thin dealing with depression and holding his family together. Dr. Madden, Diana's medical caretaker, was played by freshman Caroline Granner.
The two Goldman children follow separate storylines, but the nature of their problems is closely tied to their parents' struggles. Natalie, played by Anna Mosoriak, is overworked at school and needs more love and support. Natalie's hopeful boyfriend Henry, played by Erin McCammond Watts, is used to show how the family seems to an outsider looking in.
The character that makes "Next to Normal" so unique is Anna's brother Gabe, played by freshman Joe Dennis. At first, he appears to be a normal high school student, but he is later revealed to be a figment of Diana's imagination; the real Gabe died as an infant. This was a shocking revelation because it came after we had seen him interacting with other characters as if he were really present. The ambiguity of his presence is used to show how scary and confusing Diana's bipolar disorder is.
As should be the case in any musical, the songs were a central selling point of the show. The cast sang beautifully; each actor had solos, and there were many ensemble songs as well. It was clear that the actors were very familiar with the ways in which each song related to their respective character and the messages of the piece as a whole. Especially strong emotions came out in "Superboy and Invisible Girl," about how Natalie feels left behind as her mother pines for Gabe, and "There's a World," where the imaginary Gabe dances with Diana and tempts her to join him in death.
Each family member's struggles affected the others'; the web of depression, drugs, and hopelessness grew deeper in each act. Treatments proposed to Diana for her disorder seem like good ideas but lead to worse and worse situations. As director Abdul wrote, "they are all trying to show love for one another in different ways […] they just don't know how."
The musical numbers were brought to life by an enthusiastic group of musicians in the pit orchestra, conducted by senior music education major PJ Uhazie. Uhazie passed cues from the actors to the musicians, keeping everyone in perfect time. Junior Sarah Ogden played cello, senior David DeStasio played double bass, junior Sean Goldman played percussion, senior Luis Gonzalez played guitar and senior Zoey Lin played piano.
The play's conclusion brought some relief to its audience. Natalie and Dan take comfort in each other. Dan finally resolves to seek counseling and address his own mental health. Diana is off on her own having removed herself from the home, but she is hopeful for a brighter future. The lights fell as the actors tearfully smiled up at the sky—an emotional ending to a very powerful play.