Freshman Christina Sadall, Ethan Penny, Alex Wetzel and Rebecca Mikus.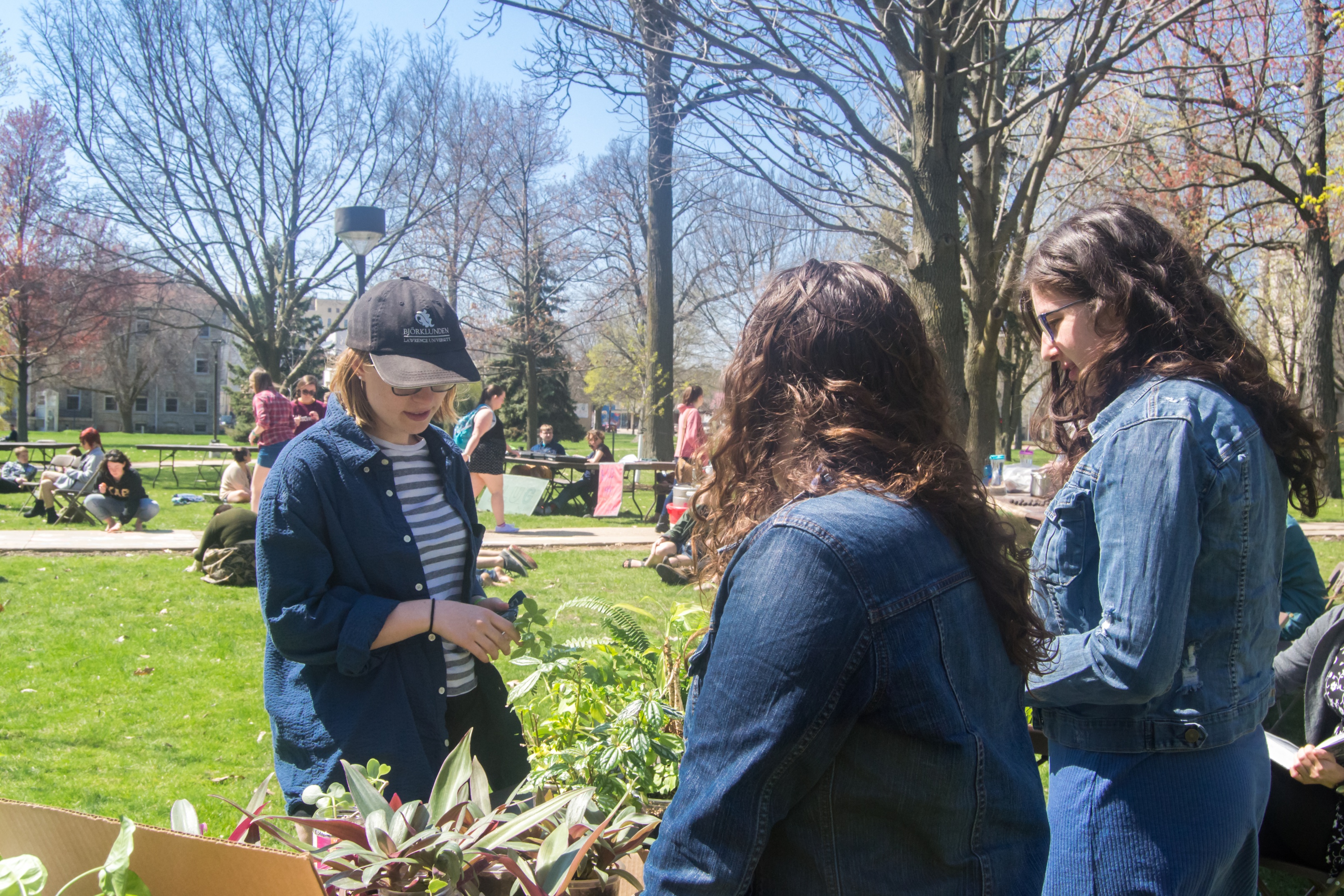 Photos by Emily Midyette.
To promote environmental activism, Greenfire hosted Earth Week from April 17-22. The week featured various activities. Some were designed to promote enjoying nature, but most events during the week focused on activism and raising awareness for environmental causes.
On Monday, April 17 from 6:30 p.m. to 8:30 p.m. in the Warch Campus Center Cinema, Barbara Royal, a veterinarian based in Illinois, gave a presentation called "Life's a Zoo and I'm Your Vet: Wild Health Starts with Wild Education" and Matthew Gies, an organic farmer, presented "From Chicago Peregrine Falcons to Michigan Organic Hops Farming: It's Not As Far As You'd Think."
Both spoke about their occupations and how it is important to question each industry's standards for how work should be done, bringing awareness to how "Big Industry's approaches [are] all about feeding the capitalist machine," said senior Shana Pike, a Greenfire leader who helped to organize Earth Week, "as opposed to prioritizing our environment and resources."
On Tuesday and Wednesday, events were more centered on enjoying nature and socializing. On Tuesday, April 18, there was a hike in the Gordon Bubolz Nature Preserve from 4:30 p.m. to 6 p.m. The Gordon Bubolz Nature Preserve is a non-profit environmental preserve on Lynndale Drive, approximately six miles away from campus. On Wednesday, April 19, Greenfire hosted an open dinner in the Greenfire loft at 6 p.m.
On Thursday, April 20 from 7 p.m. to 8:30 p.m. there was a showing of the documentary "Sacred Water: Standing Rock Part I," directed by Sarain Carson-Fox and written by Michelle Latimer, in the Wriston Auditorium. The documentary captures the struggle of the Native people of the Standing Rock Reservation to prevent the Dakota Access Pipeline (DAPL) from being built on their land.
"Environmental justice is social justice," said Pike. "The people who are impacted the most are those who are marginalized in this society—namely low-income communities and communities of color. We can even see this with DAPL." The movie showing was a part of Greenfire's focus on making Earth Week about intersectional environmental justice.
"Intersectionality needs to be the cornerstone of environmental justice," responded Pike. "Although we touched on [it in] our events, I think in the future a greater and more deliberate attention needs to be paid to intersectionality within our events."
As a part of this year's theme to promote environmental activism, Greenfire advertised and hosted sign-making for the March for Science from 2:30 p.m. to 4 p.m. on Friday, April 21. The March for Science took place on Saturday, April 22 from 3 p.m. to 5 p.m. in downtown Appleton.
The closing event of the week was Earthfest, which was held on the Main Hall Green from 1 p.m. to 4 p.m. on Sunday. There was live music from several groups and local musician Nicholas the Transparent. There were tables organized by the Lawrence University Gardening Society (LUGS), Sustainable Lawrence University Garden (SLUG), Bird and Nature Club, Lawrence University Women in Science and Greenfire, with activities that included flower and herb planting, rock painting and bike repairs, Food was also provided.
"[Earth Week is] an important reminder that, although everyday should be Earth Day, we often don't treat it as such," said Pike. "It's one thing to mix up your recycling, or unintentionally waste some food that was pushed to the back of your fridge, but what I wish Lawrentians (and the greater Appleton community) would realize is that our daily [actions have] a greater impact which may not necessarily impact us [directly]."
Greenfire has meetings every Thursday at 8:30 p.m. in the Greenfire loft (the Elvira Loft on the first floor of Colman Hall) and holds open dinners on Wednesdays at 6:30 p.m.