Christopher Card interacts with a Trinity student.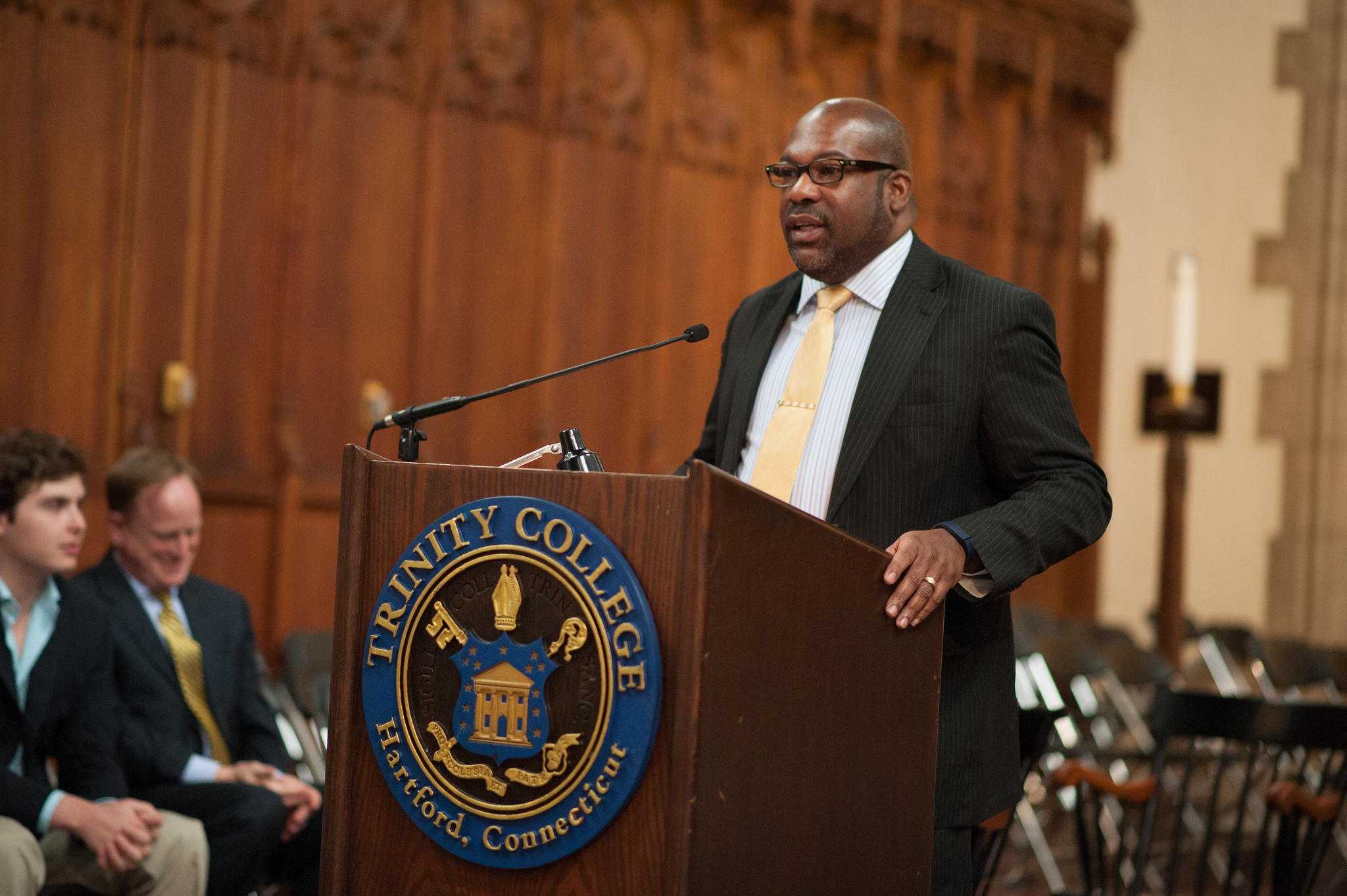 Christopher Card had previously worked at Trinity College for nine years.
Photo courtesy of Trinity College.
On May 4, 2017, President Mark Burstein announced the hiring of a new vice president for student life, Christopher Card. Card is currently the Dean of Students at Trinity College in Hartford, Conn. and will be taking over from current Vice President for Student Life Nancy Truesdell who will be leaving Lawrence at the end of the year.
Card, a native of St. Andrew, Jamaica, has had extensive experience working in the student life office at Trinity College since 1998 as the dean of students and before that, the associate dean of students.
He had a broad grasp of overseeing different aspects of student life at Trinity, as he served on the President's Council on LGBT Life, the President's Council on Affirmative Action and as a chaplain for the college. A well-rounded man, Card also coached rugby for a few years at Tufts University. He enjoys nature and long hikes; he also has just started to explore fishing.
Card's unique academic and professional background also made him the standout candidate amongst more than a hundred candidates brought in by Lawrence's rigorous national search over the past year.
"Chris understands co-curricular [activities] very deeply and he's passionate about it, but also he wants to find any way possible to link them to the curriculum, and that is his primary work, trying to create a more holistic integrated experience for students," commented Burstein.
"I think we were also excited that Chris brings a different perspective on a number of issues. Partially being at Trinity for so long […] also being a graduate from the United World College program, those kinds of experiences, we felt, are essential to what we feel Lawrence could be in the future."
Talking to The Lawrentian about his appointment and future plans, Card was enthusiastic to answer the quintessential 'Why Lawrence?' question, and said, "I've been looking very very carefully for the last couple years to join a community that shares similar values to me, and when I met with the search team at Lawrence, it was very very clear that Lawrence is a very special progressive, forward-thinking community […] what most convinced me was when I had a chance to visit and met with several students, I was impressed with their critical thinking, their sense of appreciation and just how open and welcoming that community was."
The intensive search for the position for the past year also involved a few students, each with a different background to represent the different groups present on campus. Candidates were also interviewed by different student groups, such as LUCC, ACE and CODA.
Junior Tamanna Akram from Bangladesh, one of five students on the search committee, was impressed with Card from the beginning. "[Card's] background as an international student from Jamaica really resonated with me," said Akram. "He spoke of the challenges he faced as a student and spoke of ways to resolve challenges that we face today […] Chris values relationships a lot and I think that is what makes him a great candidate and I can't wait for him to start at Lawrence and bring some positive changes at Lawrence."
Junior and LUCC president Lewis Berger, who also served on the search committee, agreed on Card's great fit for Lawrence. "My first impression of Chris was that he cares about students first and foremost. He will be a leader in tackling the issues and concerns we bring to his attention," said Berger.
"I was impressed when he answered the question of what his biggest frustration with students is with 'they're too timid.' He doesn't want an easy job where students are content with what they have. He wants to encourage students to stand up for what they believe is right and demand change when needed."
"Chris impressed the search committee from the very beginning. A number of aspects from his experience and his approaches really resonated with us," said Burstein. "We were very focused on looking for someone who is student-centered, who thought about her or his work in a way that kept students at the center of focus, and Chris clearly presented that kind of approach."
Card intends to begin his time here at Lawrence with a series of conversations and dialogues with students to get to know the Lawrence campus and the important issues in the community.
Talking about his current goal for his time at Lawrence, Card stated, "My hope for Lawrence is […] to situate students as primary decision makers in their own academic experience, rely on staff and faculty who are there to support them, challenge them, develop their skillsets so they can make reasonable decisions, that they can own, about their lives."
For his transition to Wisconsin, Card is excited to get out of his comfort zone. "Having spent the majority of my time working on the East Coast, now moving to Wisconsin will be a challenge for me to get out of my comfort zone, and to some extent live what I have been preaching for many years," Card shared. "I'm curious about what Appleton will bring […] I'm also eager to see, in addition to the Lawrence community, what I can bring to the community of Appleton. As an international man of color, I would be interested in whatever engagement, so I would find in the city my own commitment–my diversity challenge grows. So I'm excited to be a part of the Lawrence community, but I am equally excited to see how I can weave myself into the fabric of life that is Appleton too."