Seniors Eli Cauley and Nalee Douangvilay were two of this year's Trivia Masters.
Photo by Marieke de Koker
While January may traditionally signify the month full of failed New Year's resolutions, at Lawrence it means it's Trivia time. The 53rd year of Lawrence University's Great Midwest Trivia Contest commenced on Friday, Jan. 26 at 10:00:37 p.m. and lasted until 12 a.m. on Sunday, Jan. 28. The 50-hour contest was broadcast online from Lawrence's radio station, WLFM, and attracted a worldwide audience.
There were nearly 90 on and off-campus teams that actively played. Of those who played on campus, the team "The Cult of the Pink Shoes" won with 1170 points and received the peculiar prize of a troll doll signed by all the Trivia Masters. This year's second place winner was "WLFM: It's Our Station, So We Win" with 1027 points, and the third place winner "Trivia Wars Episode III: Revenge of the Nips, The Nipples of Knowledge Returns" with 980 points.
"Winning was amazing," said junior and member of "The Cult of the Pink Shoes" Anna Cohen. "When we heard that nobody had gotten the last question right and that we won, we all gasped and started screaming and hugging each other," Cohen stressed. However, she said that it was not so much the winning that made playing worth staying up for 50 hours, but rather her team.
"[Winning] was so exciting because we weren't playing to win; we were playing because we like Trivia and we wanted to spend time with each other. My team was super competitive, but they were also friendly and warm and welcoming."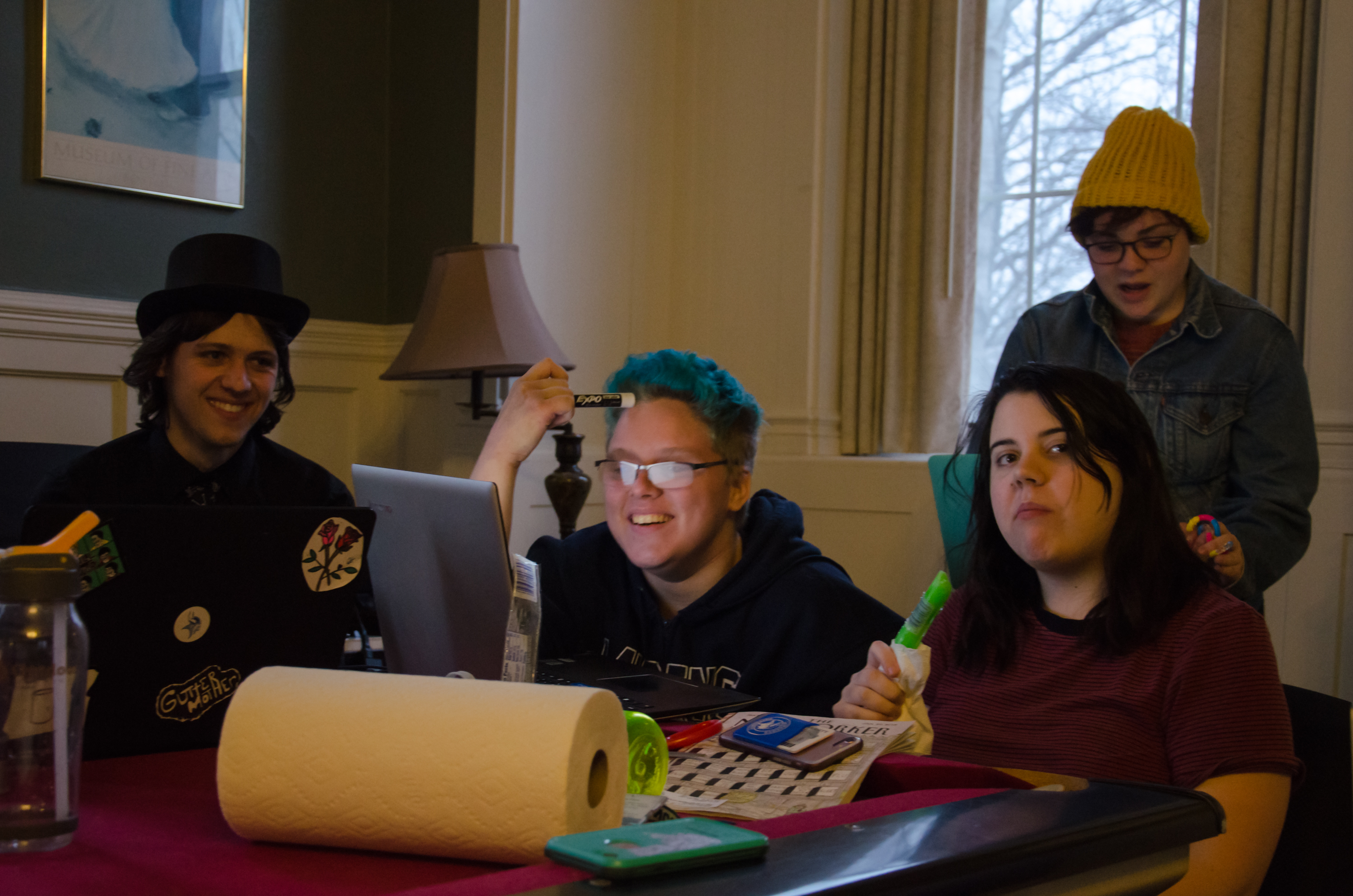 According to its players and the Trivia Masters (TM's) themselves, the trivia competition is a great way to meet people. "I joined Trivia this year looking for that signature fun experience again," Cohen said, using her team as an example. "I kind of knew the people I played with—not really—but I felt like we really got to know each other, and now I have all these new friends. Trivia is just about coming together to do weird stuff and not caring about how weird it is and just bonding through that weirdness."
Part of what makes Trivia such a well-loved event are the wacky, weird and outlandish experiences students have while playing. "When I played my freshman year, we stole like 100 to 150 cookies from [Andrew] Commons during dinner," said Cohen laughing.
"We went in with like a bunch of empty Settlers of Catan boxes and went up and took a couple cookies at a time and just filled the boxes. We then took them to WFLM and we poured them over the headmaster. It was so much fun to do!"
Participating in Trivia not only bonds players to other current students but also Lawrence alumni. The bonding and the overall uniqueness of Trivia is junior and member of "Trivia Wars Episode III: Revenge of the Nips, The Nipples of Knowledge Returns" Carolyn Ford's favorite part of the competition.
"Just trying to stay awake for as many hours as possible, doing really dumb things, listening to Africa like 20 times during the weekend—it just is really fun," said Ford. "It is really a way to connect with Lawrence and Lawrence history and just the fact that we're here and still doing the same things we, as a community, were doing 53 years ago. It's just a way to really be a part of the Lawrence community and spend time with people."
Junior TM and next year's headmaster Miranda Salazar stressed the importance of this connection with alumni and how this connection actually enhances Lawrence. "I think that Trivia is one of the biggest ways that alumni care about this school," said Salazar.
"We don't have like the best football team, or whatever, the normal way people relate to their school. But when it comes to Trivia, we have like 700 alumni who care about this thing and who play every year and who call and email us and want to be involved. Some even fly back here just to see us and play. It's huge."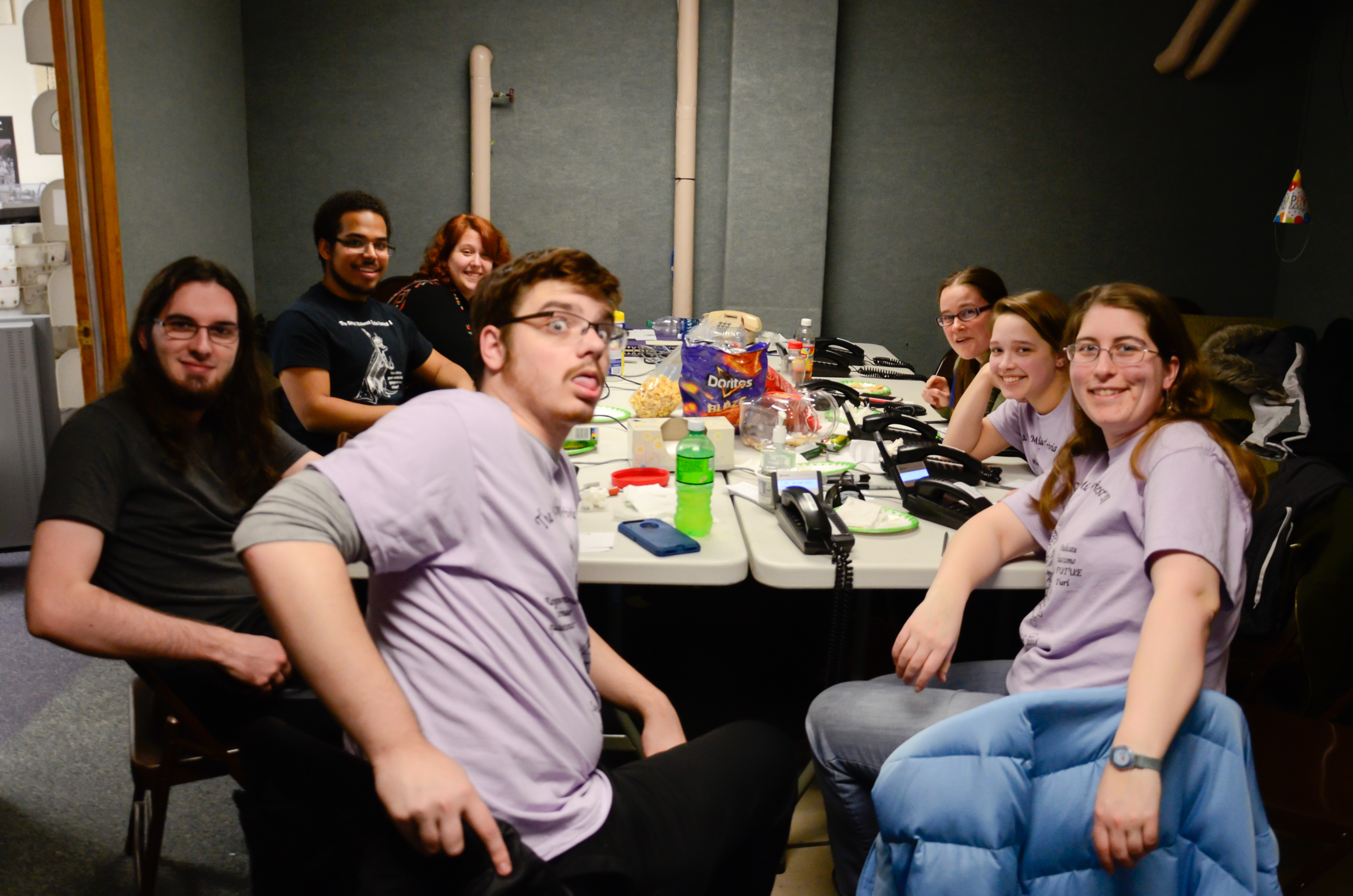 The Cult of the Pink Shoes came in first among the on-campus teams.
Photo by Claire Zimmerman
Even though the competition seems to have made a positive and memorable impact on all those who have played it, Trivia, in all its glory, seems to be losing its presence on campus.
"Playing on campus has definitely gone down significantly," said Salazar. "There used to be hundreds of players on campus, and this year was pretty good, but there were only like seven on-campus teams that were really active compared to the 80 plus off campus; it is a really big difference. That hasn't always been the case—the entire campus used to play, but that has kind of stopped."
Part of this, argued Salazar, is due to lack of support from administration. "I think Trivia is really underestimated and undervalued by the administration and Campus Life, but if Trivia were to stop, there would be many angry alumni," said Salazar.
"Trivia lacks institutional support with getting people to play, especially with promoting it. We used to have Lawrence Minutes that were made about Trivia, and we haven't had one for two years. That's an example of the kind of thing that new students coming here watch and makes them they think 'I want to do that when I get here,' but if they don't know about it, they won't want to play."
"It's a hard line to walk as a TM, because your job is to be as obnoxious as you can by advertising in interesting ways; we put [the words "play trivia] all down the stairs [in the Warch Campus Center], but it was taken down immediately by Campus Life. It wasn't hurting anything."
"I understand if it was inconveniencing the custodians, if that was a problem for them—then of course, take them down and I'm so sorry. But other than that, I don't know why it was a problem. I think the big thing is to let us advertise in a way that is effective, because just posters don't work—especially not with something where you need to convince people that you want to spend 50 hours doing this."
While Campus Life may not provide the institutional support that trivia needs, President Mark Burstein does seem to show the overall campus administration's support. "Burstein always comes [to Trivia], and he always sits in the studio with us and always reads the first question, so he is very helpful in that regard."
Salazar hopes that more students take advantage of the unique experience that is trivia and hopes for more support from campus institutions, like Campus Life, to encourage students to partake in this distinctively Lawrence tradition.
It seems if Trivia goes obsolete, so does part of Lawrence's character: the inclusivity that is demonstrated by Trivia is a real world example of Lawrence's welcoming disposition and overall display of support and unity within the school's community.
"Trivia means a whole lot to me and to alumni," said Salazar. "It is probably my favorite thing to be involved in on campus…I am also an RLA, a writing tutor and on the Honor Council, but I would get rid of all of it to be a Trivia Master. It is a really loving community of players. I think we could just use some help from campus and Campus Life—from everybody—to just get more people to play. Trivia is amazing."