A Hmong dance group performs a traditional dance to celebrate the Lunar New Year.
Drum beats. Dragons dancing. Personal stories. These are just some of the things one could see and hear at the Lunar New Year celebration on Saturday, Feb. 17. The celebration was the result of coordinated efforts between multiple student organizations including Lawrence Asian Diaspora Alliance (LADA), the Vietnamese Culture Organization (VCO), Chinese Students Association (CSA), Lawrence International (LI), Korean Culture Club (KCC), the Pan-Asian Organization (PAO) and International Student Services.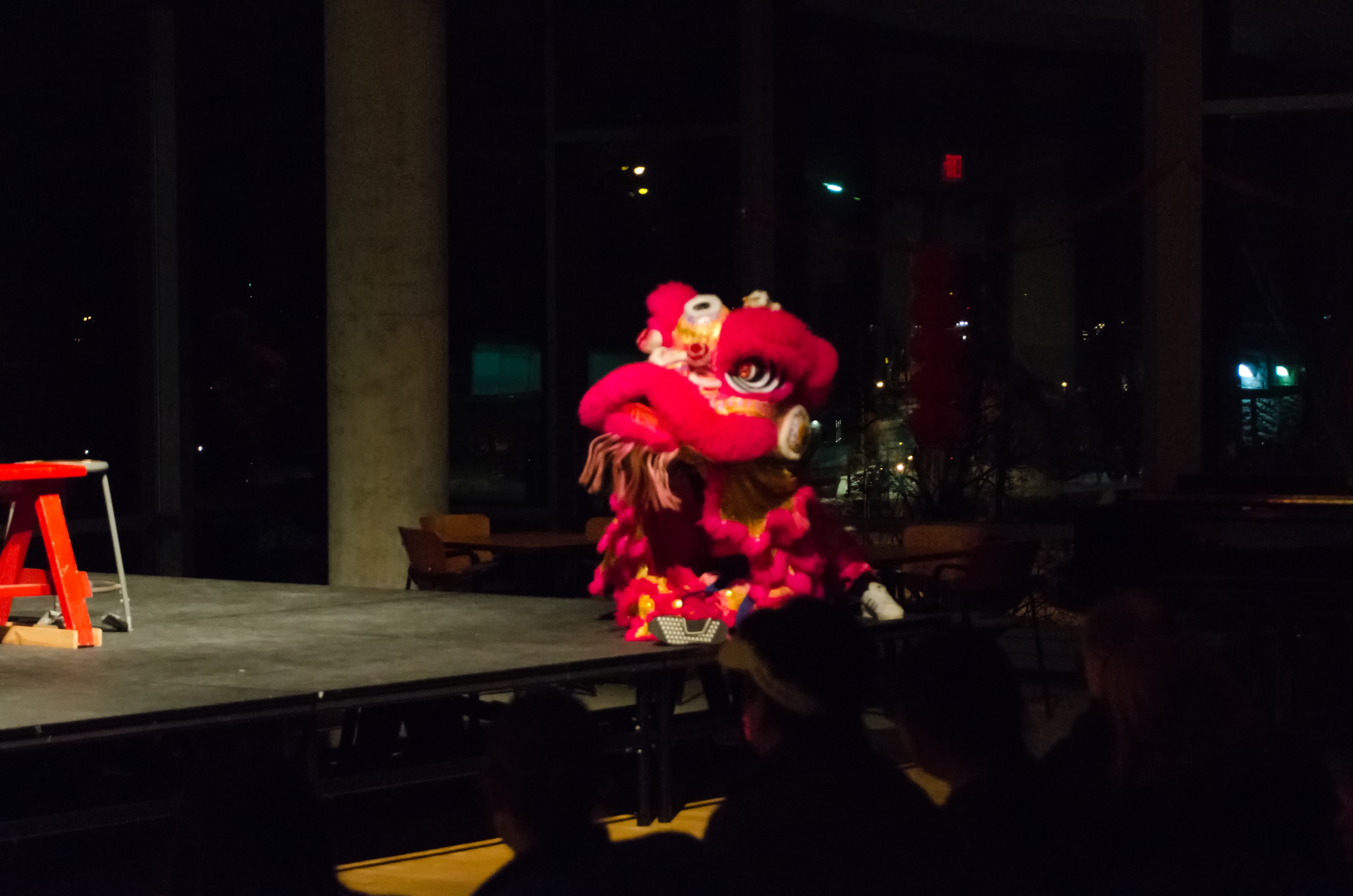 The event consisted of two parts: a series of traditional performances that celebrate the coming of spring and honor ancestors, interspersed with personal stories from students about Lunar New Year and a cultural exposition with food and booths set up by the student organizations involved in the event. The booths highlighted different aspects of Asian cultures surrounding Lunar New Year, including music, games, and even making origami dogs, which represented the Zodiac sign for this year.
Lunar New Year is celebrated in different ways by different cultures around the world, as pointed out by senior Jason Lau, copresident of the Pan-Asian organization, during the event Saturday night.
"There are Vietnamese ways and Chinese ways," Lau said. These differences were further illustrated by the personal stories presented by several other students during the evening.
"China's Lunar New year is the most important holiday in China," said junior Ruby Liu, who is involved with the CSA. She added that it's a time when people take the day off to be with their families and to attend the Spring Festival.
Not only is Lunar New Year an important tradition within the cultural communities that commonly celebrate it, it is also an important way for those communities to celebrate their cultures in general and is representative of cultural expression on campus.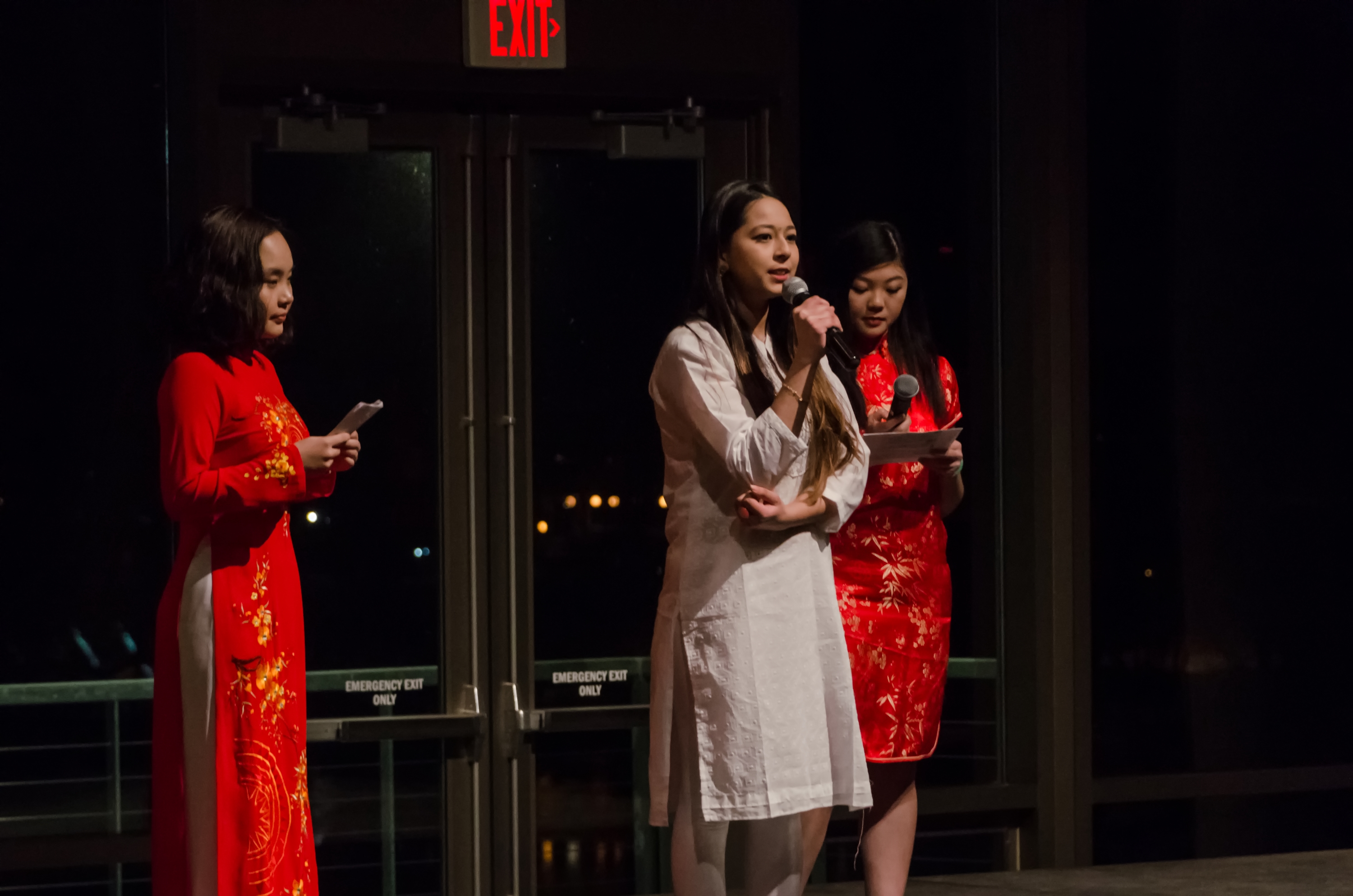 Sophomore Ngan Nguyen, junior Binita Rajbhandari and junior Lisa Tran acted as emcees for the event.
Photos by David Baldwin.
"A lot of different cultural and ethnic groups on campus have their own ways of exploring and celebrating their own identities," said fifth-year Deep Tripurana, who serves as the President of LADA, "We have different groups working on different projects all over campus at different times of the year."
The expression of different cultures on campus feeds into another important role these organizations play: promoting cultural understanding.
"Things like the Lunar New Year are important because," Tripurana explained, "by understanding each other's cultures, whenever we go through times of great duress and pain, such as gun violence all the way to racism and deportation with DACA [Deferred Action for Childhood Arrivals], it gives us an opportunity to bond, to heal together, to learn from each other, and most important of all, to exist and fight for each other."
Tripurana also added that individuals in many Asian cultural communities are recipients of DACA, an Obama-era program that President Trump has set to end by March 5 and that has been the subject of political debate in recent months.
Sophomore Kolor Nguyen, a student involved with the VCO, said that cultural groups like VCO are not just for Vietnamese students, but for anyone who has an interest in learning about other cultures.
"Everyone can join us," Nguyen said. A similar sentiment was heard at the Lunar New Year celebration, especially when it comes to students from Lawrence International who don't celebrate Lunar New Year coming together to support those who do.
"Not all of us celebrate Lunar New Year, but we will be there to support our brothers and sisters," said junior Lisa Tran, one of the emcees of the event while introducing two students from LADA, one from Pakistan and one from Japan, to speak about their experiences with Lunar New Year.
Freshman Momin Panhwar, one of the students who spoke, said "Whether it be the Cambodian New Year celebration of drinking holy water and washing your face with it in order to begin the year anew or the Islamic New Year celebration of engaging in devout prayer, each of us brings forth traditions, languages, history, and our unique experiences to this community and can enrich our perspective of what it means to be Asian."