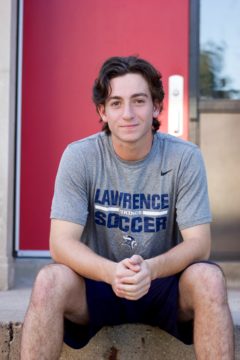 Hunter Lanton is a sophomore goalkeeper from Dix Hills, New York. Lanton is a key player on the men's soccer team. In just this season alone, he has already saved over 50 shots on goal and took home his first Midwest Conference Defensive Player of the Week award.
Kelli Quick: Coming off a four-game winning streak, what do you think has led to your own personal success as well as the team's compared to earlier on in the season?
Hunter Lanton: I think the biggest part of my personal success now compared to early on in the season has been the consistency in the way I have been playing in practice. It has made me much more comfortable in game situations. Also, goalkeeper training sessions with our new goalkeeper coach have definitely helped. I believe the team has had a lot more success recently because we now have a lot more depth in our squad. Early on in the season, we had a lot of injuries, a suspension and some unfortunate circumstances that hindered the number of players we had available to play in our early non-conference matchups.
KQ: In the double-overtime tie against Marian College, what was running through your mind at halftime, considering you were down 2–0 at that point?
HL: At halftime I was disappointed. I personally felt I did not play well, but I wanted to go out there in the second half and flip the script. The goalkeeper position is very stressful and you have to recognize that when you're in that position. Also, I really trust my defense to help guide me through the game. I just try to stay composed and keep my team in the game even if the other team is getting a lot of shots on goal.
KQ: In the conference games this weekend against Grinnell College, you were faced with a penalty kick. How do you prepare yourself for a penalty kick and most importantly, if you are not able to block the penalty shot, how do you maintain composure and positivity for the rest of the game and the ones to come?
HL: As a goalkeeper on penalty kicks, you just have to trust your instincts and try to take an educated guess on where the shooter is going to try and place the ball and dive to that side. When I am not able to save that shot, I just have to remember that the team needs me to keep my cool and remain positive in order to give us a good chance to win the game. So that is what motivates me to do so.
KQ: In the Conference Game against Illinois College, where the Vikings won 3–2 in double overtime, how did the stress of knowing that it was "golden goal" — whoever scores next wins the game — affect your mindset/ability to play? Do you think it hindered it or strengthened it?
HL: Overtime against Illinois College was definitely a high-pressure situation. The stress of golden goal helped my mindset because I just kept thinking to myself that if I can do my job and not allow any goals, our offensive players will handle the rest and ultimately score the golden goal. I feel that the stress and the heat of the moment brought out the best in me and my teammates.
KQ: Do you have any superstitions?
HL: I am a very superstitious person and a lot of my teammates know this. Before the game, I have to eat at least three hours before the game starts. Also, I have to hear the song "Dreams and Nightmares" by Meek Mill before playing. If I play poorly wearing a certain pair of cleats, I will switch to the second pair just to change things up. During the game, I only put my water bottle on the right side of the goal.
KQ: What has been your favorite soccer memory here so far?
HL: My favorite soccer memory here so far has been the recent 3–2 win against Illinois College. It was our first conference game of the season and it was parent's weekend, so there was definitely a lot of extra motivation to go out there and get a big win. This is my favorite memory because of how hard we worked as a team in that game for 103 minutes. Even though we had some defensive errors, we stayed positive, kept fighting and ultimately [freshman] Mark Todd fired home the golden goal and we got to celebrate. What also made it so special for me was after losing to them 2–1 in heartbreaking fashion last year we were able to go out this year and beat them.