On a Sunday evening, Maggie, which is a pseudonym, tested positive for COVID-19. She had bought a rapid test when she started feeling sick, and when it came back positive, she didn't know what to do. Wellness Services is not open on the weekends.
Maggie emailed Wellness Services that evening to ask what she should do next. She received an automated email saying that the Wellness Center was closed, and they would get back to her the next day, Monday.
"COVID does not wait 48 hours," Maggie said. "If you contract COVID and you know that you have it during the weekend, what are you supposed to do? You can't ensure the safety of other people without being in [isolation]."
By 10 a.m. on Monday, Maggie had not heard back from Wellness Services, so she called them. The staff member she spoke to first asked for her close-contact list and then told her that they would send her an email with instructions on where to go and what would happen.
Maggie expected a prompt email within the next hour—it didn't arrive in her inbox for another three hours.
But Maggie is not alone in her experience. Questions about Lawrence's COVID-19 policies have been prominent on campus since the rise of omicron, and the campus is divided, as indicated by a recent Lawrentian survey which received 127 responses from students.

While 40.5% of students said they either strongly or somewhat agreed that the administration has made good decisions in their handling of COVID-19, 46.8% disagreed.
Some common concerns in the survey responses relate to Wellness Services' hours and communication, students feeling unsafe and/or unsupported, LPPT policies being unclear and/or confusing, COVID-19 violation reports, in-person dining, the return to fully in-person classes and the testing system. However, on the other end of the spectrum, some students shared their discontentment with the mask and vaccination requirements and the delayed return to campus.
Of paramount concern to many students was unclear communication from LPPT regarding quarantine and isolation policies.
Molly, which is also a pseudonym, had to delay moving back to campus when her father tested positive for COVID-19 on Saturday, Jan. 8, the day before move-in.
She sent an email to Wellness Services and the dean of students that day but did not hear back. On Monday, Jan. 10, the day after move-in day, Molly was finally able to get in contact with Wellness Services via phone call.
"Wellness Services was closed the weekend this all happened, which is probably what made the problem so much worse," Molly said. "I get it, you shouldn't have to work all the time, but it seems sort of silly that you didn't have a set-up person to handle this sort of stuff. You can't be sitting here making rules and guidelines and procedures for COVID and returning to campus and not consider the possibility that people will get COVID or be exposed to COVID before they come back."
Wellness Services does their best to respond to individual students' requests and questions as quickly as possible, working with colleagues in student life and LPPT to respond as needed, LPPT member Megan Scott said. If a student contacts Wellness Services via telephone or email, they receive an email and/or a voice message referring them to the COVID-19 website and are also provided with general recommendations on coping with COVID-19 symptoms, Scott said.
However, Molly's story mimics that of some students who have been exposed while on campus.
One of CA Tucker Hall's residents received a positive test result in the early hours of a Saturday morning. She had contacted Wellness Services before speaking to Hall and received a response saying to wait until Monday morning, Hall said.
"She's living in congregate living, so she's using the same bathroom, hallways, entryways as everybody else," Hall said. "The fact that somebody who was known COVID-positive was going to have to live in the building with people that were therefore at risk for 48 hours, that was not acceptable to me."
Hall reached out to his residence hall director, who then spoke with someone at the administrative level, Hall said. Later that day, she informed him that Wellness Services would speak to his resident on the phone to sort out the situation.
Hall received a text from his resident later that night, informing him that Wellness Services had decided not to isolate her.
Their justification, Hall said, was that because she had felt sick for a couple days before she got her positive result, they counted it as day five of isolation, and therefore, they did not think that she had to be isolated.
"I'm not an epidemiologist, so maybe that's a sound decision," Hall said. "But her viral load was so high a couple days before that day that she was able to test positive. That would appear to me that she can still transmit COVID, so I was really upset about that."
LPPT shared in an email that Wellness Services is not set up to be an urgent care or emergency care facility that is open 24 hours a day. As a result, Scott said, LPPT closely collaborates with local health care agencies to provide urgent and emergent services for students. LPPT also recently established a process for Campus Safety to deliver rapid antigen tests to symptomatic LU students after business hours, Scott said. If students need emergency assistance, they are advised to call 911, contact Nurse Direct, contact the 24/7 LU Counseling Line or contact Campus Safety, Scott said.
"If you have a positive test, that's our priority," Assistant Dean of Wellness Services Erin Buenzli said. "But there are a lot of positive tests, and we're getting through them as quickly as we possibly can."
Hall shared that if he were to propose one policy, it would be to have somebody from Wellness Services on call 24/7.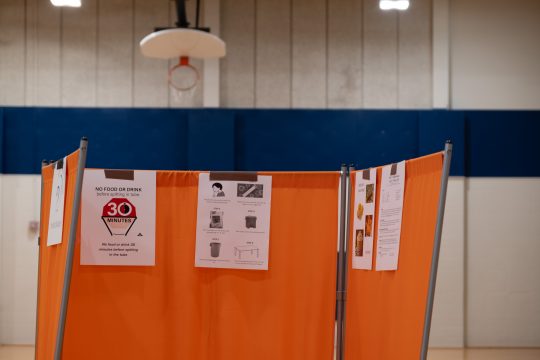 Even if Wellness Services can't get somebody in a hotel or Airbnb immediately, Hall said, they should speak to the student and lay out a plan.
"People want to do the right thing, but they can't, and they're being impeded by Wellness Services and by the administration's response," Hall said.
However, in contrast to the previous stories, various students shared positive experiences regarding communication from the LPPT and isolation policies.
Junior Adya Kadambari, who went into quarantine at the La Quinta Hotel, shared that her experience reflected an organized sense of planning and foresight on the university's part.
Kadambari's friend, who she had been in close contact with, tested positive on a Monday after feeling sick and deciding to take a rapid test. After the friend provided a list of close contacts, those individuals received a list of instructions from Wellness Services that same day, Kadambari said, and they were driven to the hotel by Dean of Spiritual and Religious Life Linda Morgan-Clement.
Upon arrival, Kadambari was given a room key, masks, hand sanitizer and aspirin and salt in case she felt sick. She also received a virtual card for ordering food, which contained $30 per day. Kadambari stayed at the hotel for five days. While there, she was asked to monitor her symptoms and was given a rapid test to take on the final day.
"I didn't really experience much of a bureaucratic hold up or any issues on that part," Kadambari said.
The Center for Spiritual & Religious Life also reached out, telling her that they were there for her, and saying they were there for her if she ever wanted to talk about what she was going through, as being alone is difficult.
Likewise, senior Juan Felipe Ayala said that safety must be a priority, but he feels the university has found a good balance between keeping the community safe and allowing for continued education without limits that may hinder the experience. Although a university can move classes online and encourage students to stay home, Ayala said that when that happens, he feels that students miss out on a lot of opportunities. Students that have laboratory classes or who are art or film students, for example, need access to the resources that are in-person at school.
In response to concerns from students, LPPT hosted a Question & Answer session webinar on Jan. 26 for students to ask questions and share concerns about the current COVID-19 policies. The recording of the webinar is posted on the Lawrence University website COVID-19 News blog under the tab Community Q&A webinars. "The LPPT and its committees meet at least once a week, and more often of late, to ensure that our mitigation efforts are appropriate for the current situation and to adjust our efforts as needed," Scott said in an email. "We have seen a decrease in positive rates here on campus over the last three weeks, which is a sign that our mitigation efforts, paired with our status as a highly vaccinated campus, are working as planned."