5/5
Big Thief's front woman Adrianne Lenker released her fourth and fifth double album "songs" and "instrumentals," both on Oct. 23, 2020.
Lenker toes the line between folk sensation and rockstar on every song she pens her name to. As a vocalist and guitarist of folk-rock outfit "Big Thief," she is no stranger to abrasion: take the cult-acclaimed cut "Not" from the band's 2019 record, "Two Hands."
Don't doubt her ability to be intimate, however. "Promise Is a Pendulum" from the band's 2022 record "Dragon New Warm Mountain I Believe in You" showcases only a fraction of her cutting poetry and incredible guitar work. Lenker is a truly talented musician.
"songs" and "instrumentals," stylized in lower-case, see her focusing this talent as a solo act in the face of the pandemic. She shifts from the drive of "Not" to more intimate cuts like "Promise." This in turn allows her to be as unfiltered, poetic and earnest as she wants to be.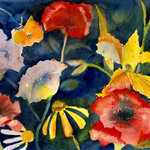 The result is a flowering assortment of vibrant folk — much like the album cover. Each song only varies slightly in sonic texture, never straying from Lenker's guitar, but they blossom on their own merits. Lenker proves herself a virtuosic "feeler" here, painting poignantly with or without words.
On "songs," her poetry undoubtedly takes center stage. To be frank, there isn't much to say about some of these tracks; they are all similarly brilliant and repeating that brilliance for each song would be a disservice to Lenker. It's up to the individual listener to discover each track's magic.
"two reverse," the record's opener, sets the bar high for consistently thought-spurring folk with veiled lyrics and metaphors. Following, "ingydar" sure is pleasant on the ear for a song about a horse's corpse. Its chords and pacing are slightly more dystopian than the serenity of the rest of "songs," but the lyrics don't feel out of place: they provide a different hue. 
To contrast, "anything," one of my personal favorites, oozes with romance and warmth. Lenker knows these lyrics are juvenile — "I don't wanna talk about anything x2 / I wanna kiss, kiss your eyes again" — but that lends itself to the track's unfettered universality. It puts a smile on my face with how much love is in this track every time.
"forwards beckon rebound," "heavy focus" and "half return" propel this beautiful naïveté with a maturity only Lenker can display. On "half return," lyrics as simple as "Standing in your yard / Dressed like a kid" evoke a profound sense of nostalgia.
This tone switches on "come:" While lyrically less dense, it features one of the heaviest topics on "songs." Its ritualistic poetry combined with soaring vocals illuminate the fleeting nature of life and permanence of death. There's still love, but it's much darker in imagery: "Come help me die, my daughter."
"zombie girl" coasts on the high set by "come," opening with the lyric "What a dream that was." This track highlights everything I love about Lenker's voice specifically: its conversational quality, its expansive range, its euphonic nasality. "What's on your mind," she delivers.
"not a lot, just forever" and "dragon eyes" console me every time. I cannot say it enough: Lenker's poetry is masterful and incredible. She distills complex emotions into such simple language: "As the coastline is shaped by the wind / As we make love and you're on my skin / You are changing me."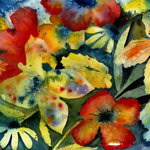 This transitions into "my angel," a haunting closer that teases some of the palettes we get on "instrumentals." It begins with two and a half minutes of Lenker playing quaint chords and notes, basking in silence, setting the stage for some final lovelorn poetry. The song ends fairly suddenly however, making way for side B.  
On "instrumentals," "music for indigo" is a 21-minute expansive piece of improvised guitar, bird chirps and subtle washes of organic synths. It undulates between in-time passages of Americana and sweet silence broken up by individual notes and chords. There's something incredibly joyful about the song — even Lenker herself laughs slightly in the middle.
"I'm starting over," she mutters on the back end, transitioning into crepuscular chords to end the track. Whether it was intentionally poetic or out of her dissatisfaction with the recording of "music for indigo," the sentiment does match the song. It feels like a fresh start in its little imperfections.
"mostly chimes" is, as you guessed, mostly chimes over its 16-minute runtime. Lenker's guitar playing at the opening of the song set the stage for the chimes to echo. It closes out the double album with a return to the natural world, standing outside, stepping in the fallen leaves.
The overall experience of both "songs" and "instrumentals" is a meditation. It's one of those records you could turn on for a walk outside, a rainy night in, a tender moment with friends. Lenker's musicianship is a prism for human emotion — equal parts versatile and virtuosic. It's gorgeous through and through.