With the house lights up, the stage set-up on Friday night already revealed the number of artists to be featured. A harp, a piano, an array of percussion instruments and a cluster of extra stands in the corner hinted at what Dean Brian Pertl confirmed in his opening remarks – eight new faculty members were being welcomed to the Lawrence Conservatory that night.
This number reflects the many retirees that we said goodbye to at the end of last year, some of whom were part of the Lawrence community for up to forty years. Filling their shoes, beginning this term, is a cohort Dean Pertl introduced as full of energy, virtuosity, joy and having a sense of community.
Those exact sentiments and values were expressed through the first piece on the program, an exuberant duet between Visiting Assistant Professor Brigit Fitzgerald on bassoon and Associate Professor Andy Hudson on bass clarinet. They displayed a musical dialogue of quick, interlocking rhythmic figures while showcasing distinct approaches to physical engagement with the music and audience. Hudson's energized stance and full-body motions were complemented by Fitzgerald's expressive face and purposeful eye contact.
Fitzgerald describes the dress rehearsal in preparation for Friday, saying, "I left the chapel that night inspired by the intense individuality and musical excellence each person brought to the stage." As for the year ahead, she is excited to continue learning about her students at Lawrence. "They perpetually amaze me with their creativity and determination," she says, "and I have a suspicion that this feeling will continue well past this first term."
Instructor of Music Joseph Connor, a Lawrence alum who jokingly introduced himself as an incoming first year, followed with an accompanied saxophone piece that alternated pensive and lilting sections. In his address, he made a point to mention how much he enjoyed his rehearsal with accompanist Susan Wenckus, being able to decipher and de-mystify the piece together with a musical collaborator.
Carrying on the thread of valuing musical community, harpist Johanna Wienholts introduced her performance as a piece composed by a friend, based on a Navajo corn-grinding song from his childhood, and transcribed with another friend. The warm and layered melody mirrored her warm smile as she concluded her performance, having briefly invited the audience to share in that feeling of special togetherness.
Just as she conveyed it through her performance, Wienholts also expressed in words her wonder at the strength of community. "I was so impressed to see how many audience members showed up from across the Lawrence community," she observed. "It's very unusual for a conservatory to be that knit into the fabric of an institution. It goes to show how beloved music is throughout campus and how deeply people support each other here!"
In another duet, Assistant Professor Jean Carlo Ureña Gonzalez and Lecturer of Music Josh Biere played a groovy and dynamic piece for percussion and tuba. The audience quickly caught on when Gonzalez prompted them to snap along, expanding the circle of musical collaboration to include everyone in Memorial Chapel. The piece ended with laughter and a friendly slap on the back between the performers.
Laughter continued to ripple over the audience as Connor and Hudson returned to the stage for a nimble, Tom and Jerry-esque duet on alto saxophone and clarinet. Their theatrical motions as they conveyed a dialogue between two musical voices invited the audience to lean closer to understand.
Connor later described the night as feeling "very much like an exchange of energy and emotion between the audience and those of us on stage." This is a sentiment he wants to carry into his time with students as well, explaining that "despite all the planning we do for the term, there are always unexpected, awe-inspiring performances, breakthrough moments, and exchanges of ideas. I live for those surprises."
Dr. Shuk-ki Wong, Instructor and Lecturer of Music, followed with a piece that traversed the landscapes of playfulness, reflectiveness, and triumph. Her free upper body movement and facial expressions invited the audience to embrace the music as she did the instrument itself.
The recital's theme of friendship and connection continued with soprano Cayla Rosché, Lecturer of Music, as she introduced her vocal piece as one set to text written by an Icelandic Nobel Prize-winning author after the death of a friend, reflecting on the landscape of a house where they often met. With a recitative that builds to a passionate lament, the piece offered another perspective on how people connect through music through both time and space.
Drawing from the Dominican Republic's merengue music, Gonzalez returned to the stage with a piece from a collection he wrote that celebrates and centers the güira, a percussion instrument of the merengue style. The audience was again invited to clap along in the middle of the piece, and the hall filled with more joyous community music-making. Though the rhythm of this piece proved more difficult for audience members than the previous on-beat snapping they were tasked with, the performance remained spirited.
Gonzalez described the Chapel as a magical place, saying, "some of us just met less than a month ago and playing together felt like if we had been collaborating with each other for many years." He is excited to work with "such amazing and inspiring young students, and to see how they grow," as well as to share more of his Dominican culture on campus.
Hudson returned to the stage for the penultimate piece, a piece for clarinet simply called "Solo." He remarked before playing that he felt the piece was not a celebration of a soloist dominating all attention, but rather one who hopes to not be alone for much longer. Indeed, the voice of the clarinet seemed to begin by working up the courage to take a step forward, with purposefully audible breaths, and culminated in phrases that sounded like one hand reaching out for another.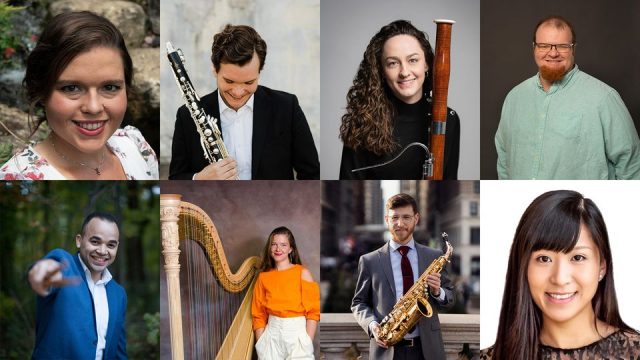 In the closing piece, seven of the eight new faculty members joined together to play Andy Ahiko's "Karakurenai." 
After two weeks of preparation and getting to know each other, the new faculty presented this resonant melding of their instruments that had an exhilarating pulse. One final time, the audience was implored to clap along in a synchronicity that suggested the heartbeat of a living musical organism.
Rosché, who is most excited for sharing "each student's journey of musical discovery" this term, cited this final piece as her favorite part of the recital. "I think it sets the tone for how this new group of faculty wants to work together to make sure what we're doing stays relevant and interconnected."