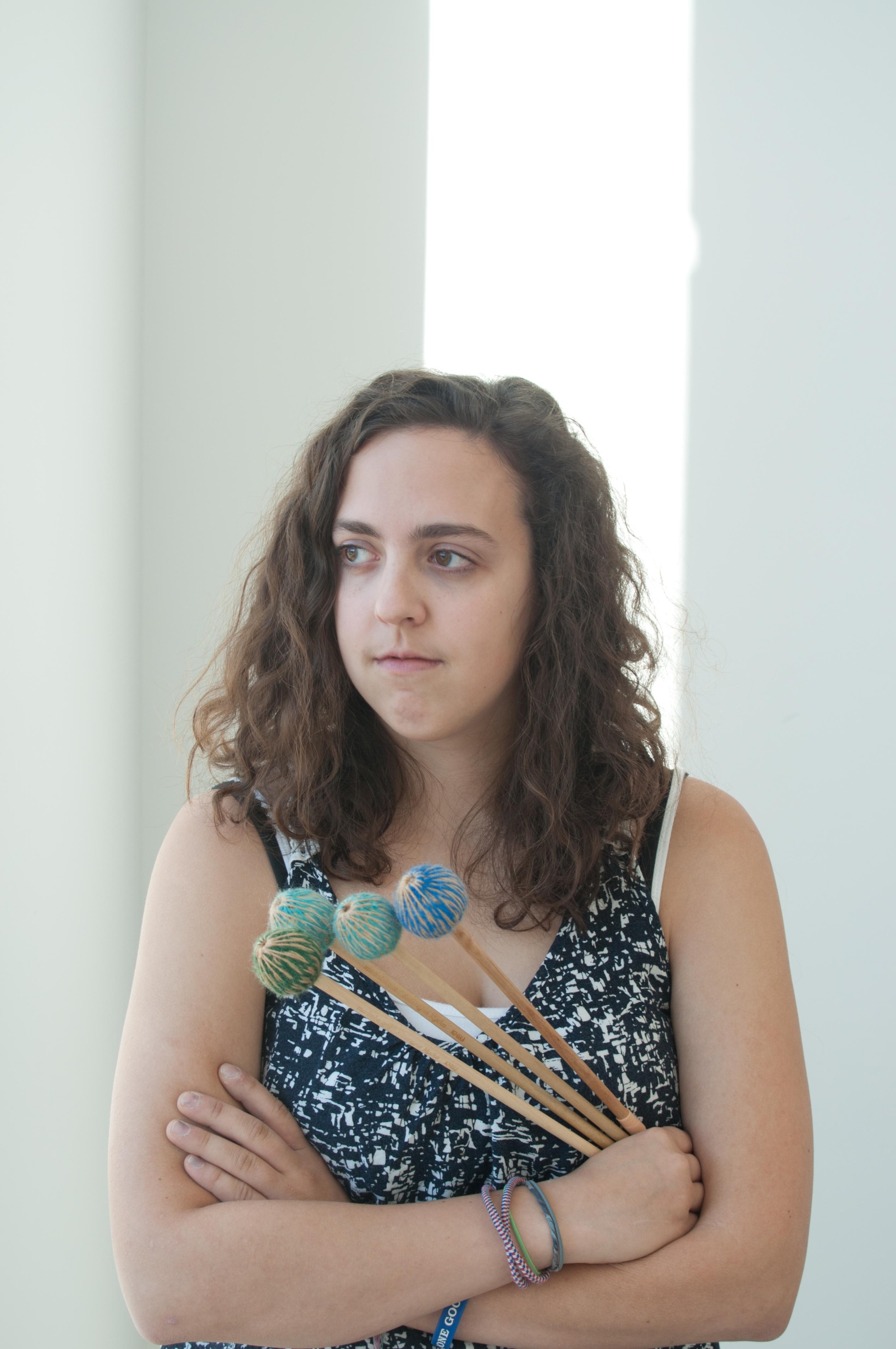 It's unavoidable. After sitting at your desk for an extended period of time, you are going to start rapping your knuckles or tapping your pencil or doing something to make some noise. Everyone wants to be a percussionist at least a little bit. The practice of forming beats, of feeling out a rhythm, is too infectious to resist. It's not easy, though. We laymen can only make amateurish attempts at music. It takes a passionate and disciplined percussionist to make that desk truly sing.
Kristin Olson, class of 2013, is one such musician. Hailing from Eden Prairie, Minn., Olson began percussion in the 6th grade. She played piano throughout elementary school and experimented with trumpet in 5th grade, but there was just something about percussion. She hasn't let up since.
Olson came to Lawrence on her teachers' recommendations. It seemed like the best fit. Nearly three and a half years later, she says she's loved her time here. The conservatory keeps her absurdly busy, but it has been worth it.
"I could have skipped school and just practiced on my own, but being here has really opened up my musicality," Olson says. "I really enjoy all the opportunities I've had to play and listen to different sorts of music here. The world music series, for example, is incredible."
After graduation, Olson plans on either attending Indiana University, or going to live in Chicago to see if she can make it as a musician. Lawrence is endearing in its small communal feel, but it is pretty much essential for a musician to give the big city a go at some point in her life.
Percussion encompasses a range of instruments: a million different kinds of drums, the vibraphone, xylophone, the seemingly mundane but oh-so crucial shakers, and many more. Olson prefers groove-based music: Hip Hop, Afro-Cuban, samba, etc. She listens to everything, but this sort of thing is where her heart lies. Lately she's had a penchant for the American-Israeli group Balkan Beat Box.
As for ensembles, Olson takes part in the Sambistas, the Lawrence University Percussion Ensemble, Kinkaviwo (the African drumming ensemble), Tambó-Toké (the Afro-Cuban ensemble), the Lawrence Symphony Orchestra, the Wind Ensemble, the Lawrence University Jazz Ensemble, small jazz combo, the DillaGents, Porky's Groove Machine and other small chamber groups.
When asked about her role models, Olson answered with some universally respectable choices: her teachers, of course, and Questlove from the Roots.
Her advice to fellow percussionists is harsh, but well-intended: "Get your work done, and then do what you love."
Olson has performed two student recitals in the past, one her sophomore year and one her junior year. Her third recital will have an admirable and eclectic mixture of musical selections, including some of Philip Glass's "Glassworks," a vibraphone solo that goes along with an electronic tape deck and a spoken-word poetry performance accompanied by flower pots as drums and knitting needles as drumsticks.
It will be an hour long performance. Be sure to stop by Harper Hall on Saturday, Nov. 10 at 6:30 p.m. to see her play!