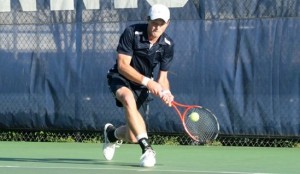 The Lawrence University men's tennis team had a weekend of ups and downs, hosting two nonconference teams on two consecutive days at the Fox Valley Racquet Club.
The Vikings emerged with a record of 3-2 after falling to UW-La Crosse (5-4) on Friday, Feb. 22 and defeating UW-Eau Claire (4-4) on Saturday Feb. 23. Despite the mixed results of the matches, the team came off the weekend pleased with their performance.
"Every member of the team performed well and got a win over the weekend," commented senior Cooper Smith, commending the accomplishments of his teammates. "[Sophomore] Craig Sherwood and [senior] Jason Dunn had really good days as they both won singles and doubles against Eau Claire."
On Friday, UW-La Crosse defeated the Vikings, taking the match 7-2. The matches were closer than the results show, however, as Lawrence competed closely with the opposition on all levels. For the Vikings, Dunn defeated La Crosse senior Vic Mirasola 6-4, 6-2 in No. 2 singles, and Smith, along with junior Jeremy Andereck, took the No. 2 doubles win 8-5 against freshman Anthony Mirasola and sophomore Dante Pitera.
LU earned an impressive 5-4 non-conference victory over UW-Eau Claire on Saturday, headed by Smith's gripping No. 1 singles win over Blugold junior Ryan Vande Linde. "For me personally, winning that decider match was very special, especially as a senior," said Smith of his dynamic 6-4, 1-6, 6-3 win. "I'll remember that one forever."
The rest of the team played exceptionally as well. Dunn again received a 6-1, 6-3 No. 2 singles victory, and Sherwood defeated Eau Claire's No. 4 singles player 6-4, 6-1. Dunn teamed up with fellow senior Max Zlevor to fight for a close No. 1 doubles match against Vande Linde and junior Joe Meier, coming out on top in the 7-4 tiebreaker. Sherwood and freshman Brian DeCorte also won their No. 3 doubles match 8-5.
Lawrence's win over Eau-Claire is huge for the Vikings. "It was definitely the biggest win as long as I've been on the team," stated Smith. After training in Orlando over spring break, the Vikings will begin Midwest conference matches and work toward earning a spot in the MWC championships in May. "That's the end goal," he added. "Hopefully we can use our newfound confidence and bring it to conference matches."