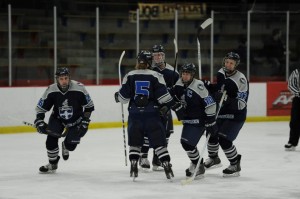 The 2012-13 season came to an end for the Lawrence University hockey team this weekend, as they fell to Northland College in the quarterfinal playoffs. The Vikings split the series but were defeated in the mini-game, and Northland advanced to play next weekend at Adrian College.
The Vikings provided entertainment Friday night, as the team shutout their opponent 3-0 for their MCHA playoff opener. The game marked freshman Fabian Sivnert's first career shutout for the Vikings, which included an impressive 25 saves.
Scoring began with freshman Renato Engler's goal at the 9:06 mark, assisted by freshman Brandon Boelter. With just a one-goal difference, tension filled the air as two Lawrence players were sent to the penalty box in the third period. Engler was stuck for five minutes for face masking and sophomore Erik Soderlund received two minutes for holding during the power play.
The Vikings had killed off Soderlund's penalty but were still down a player when freshman Rudi Pino unleashed an outstanding unassisted shorthanded goal, his second of the season. This brought the Lawrence lead to a more comforting 2-0. Sophomore Patrick Coyne helped solidify the Vikings victory with his goal at 15:46, assisted by senior Phil Buschbacher. Finally, Coyne completed the scoring for the night before both teams met again the following afternoon.
The team's spark didn't travel with them, however, as the Vikings were defeated 5-2 by the Lumberjacks. Lawrence dominated the earlier play and took a 2-0 lead by the second period. Pino scored in the first period at the 6:16 mark, and junior Paul Zuke followed up with another goal just a minute into the second period.
After several irritating penalties by Lawrence, the Lumberjacks took full advantage of the power plays and racked in three goals. Northland scored twice on the power play in the second period to tie the game at 2-2 and added another in the third period. They managed one more goal with Sivnert in the net and finished the scoring with an empty net goal in the final minute.
As a result of the series split, a 20-minute mini-game followed the second game. Despite Lawrence's heavy pressure on the Lumberjacks, they could not find the net. Northland succeeded and scored on sophomore Matt Lennon's rebound goal with just 2:02 left in the game, taking a 1-0 victory over the Vikings to advance to the Harris Cup.
With the end of the season comes the end of the senior Lawrence hockey careers. The team will say goodbye to four players this year: Michael Baldino, Kevin Aslett, Phil Buschbacher and their captain of two years, Brad Scurfield.