On April 5, 2013, junior Studio Art major Rose Broll gave her first solo photography exhibition, "Inebriation in the Restroom," in LU's own Seeley G. Mudd Gallery on the library's second floor.  A series of black and white photographs printed with gelatin silver and inkjet, the exhibition examines the complex and multi-layered interactions that occur between fellow partyers after a night of a little too much revelry.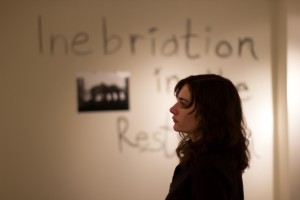 "I have witnessed some odd occurrences in the bathroom," explains Broll in her Artist's Statement, "What role besides its intended use does the bathroom play when people are drinking alcohol? It may be a more secluded extension of the social realm on the other side of the door; a place in which to privately purge the body of the ingested toxins; an area to be physically isolated, giving oneself a mental pause."
The images range from playful to extremely dark, pondering the nature of relationships formed under the social lubricant as well as the humorous interactions that can sometimes occur. Some playfulness always remains, however, in the titling of her images, a participatory activity: "The names of the photographs were produced and written by inebriated people of legal drinking age."
Though Broll's photos are technically very well done, their true power lies in their storytelling abilities. Through her use of multiple or long exposures, Broll is able to tell an extended narrative, complete with multiple distinct events leading to a clear conclusion. This literalization of photography's storytelling abilities is unique and impressive. I have never been more excited by an LU artist's first show, and look forward to seeing more of Broll's work in the future.