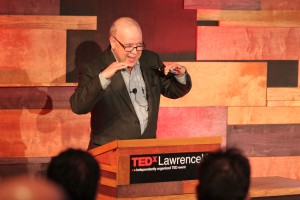 During reading period, 11 speakers gathered in Lawrence's Warch Campus Center Cinema to participate in Lawrence's first TEDx conference.
The event, which took place on Friday, May 3rd, was broken into four sessions that were roughly 90 minutes long. In traditional TED (Technology, Education, and Design) fashion, each talk was close to 20 minutes long and included time for answering questions from the audience. Speakers included Lawrence University President Jill Beck, Vice President and Editorial Director of The Chronicle of Higher Education and the author of the up coming book "College (Un)Bound" Jeffrey Selingo, Vice President for Personal and Career Development at Wake Forest University Andy Chan, and co-founder of Coursera and Professor of Computer Science at Stanford University, Daphne Koller.
Under the big topic of "Reimagining Liberal Education," speakers discussed the status of liberal arts colleges in modern society, including the functions and benefits liberal arts education brings to students and the influence of online courses on liberal arts educations.
According to Selingo, "When we think about higher education in the United States today, we no longer have [a] common definition of what it is." Selingo emphasized that instead of asking what a student's major is, it is more important to ask whether majors matter at all and whether we are putting too much emphasis on them. In Selingo's opinion, it is important that students have a college experience that includes a passionate faculty, deep research projects, global experiences and learning how to fail.
Instead of focusing on the college experience, Chan emphasized the importance of a student's career development after college. Chan believes that students need to go to career services more frequently.
"The idea of trying to understand what career services is about starts from who you are," said Chan. In his view, it may take time for students to understand their values and interests, but it is important that during this process they talk with others to find opportunities that connect them with the world.
Mary Meany, Dean of Career Services at Lawrence, also believes that students should not be afraid to visit Career Services office early in their college career.  She agreed with Chan that everyone has a right to be employed or accepted to the graduate school of his/her choice, but it takes work, time and effort.
Said Meany, "Our Career Services team offers much of what his [Chan's] team does, although on a smaller scale, given the size of Lawrence…Our team can help students work through the process step-by-step and can help the students who have no idea what they want to do discern their path."
In senior Jake Woodford's opinion, TEDxLawrenceU is "exactly the kind of thing our institution needs to be doing more of." He agrees that a liberal arts education produces "effective communicators with deep and wide bases of knowledge and interests" as well as "global citizens."  For him, the fact that Lawrence alumni were at the event was "more proof that a Lawrence education can serve as an intellectual foundation for great things in the future."