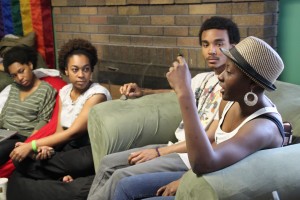 The new student organization All is One! Empowering Women of Color held their welcoming meeting and informational session on the evening of Sunday, May 5. Forming a large circle on the main floor of the Diversity Center, students gathered to ask questions and discuss events they would like to hold in the future. They also gathered to discuss and develop the group's purpose, which is to address issues surrounding women of color on campus such as prejudice, sexuality, body ownership, and self-esteem.
An active member of cultural clubs such as CODA and VIVA and also a member of DFC, AIO president and senior Brienne Colston spearheaded the development of the group. "We created this club because we felt that the intersection of being a woman and being a minority woman in America was not addressed at Lawrence University," Colston stated. "I feel that other organizations have tried to include the views of women of color, but it was never to the extent of which I, personally, felt was acceptable."
Long in the making, AIO was conceived in the fall by members of Beta Psi Nu, a predominantly African American sorority on campus. AIO Vice President and freshman Brittni Adekoya is also a recent member of Beta Psi Nu. "Being in a sorority, we strive to provide support to each other," Adekoya said, "so to create this organization, we wanted to provide support to all women of color on campus and spread that around."
AIO plans on holding a few events this term and has considered other event proposals from students. A sexual health workshop catering to women of color is set for this term. When asked why AIO chose to target it that way, Colston said, "There are a lot of STDs that the percentages are higher for minority women, and a lot of that connects to personal self-esteem, self-worth and acceptance of society."
A potential plan for next year is a trip to the annual White Privilege conference, which took place in Seattle this April. Also discussed were ideas of bringing in speakers from the region and a proposal for a panel on women and color in relationships. At the end of next year, AIO hopes to hold a banquet honoring those who have promoted social justice and equality for women of color on campus.
Colston is eager to work with other organizations on campus to fully incorporate into the Lawrence community. "We are excited for future collaborations with other groups on campus, and we're glad to be a new addition to the different cultural clubs," Colston stated.
"I just wanted to reiterate that this organization is not just for women of color," Adekoya said. "All are welcome: male, female, shape, size, color or orientation." All is One! Empowering Women of Color Meets Wednesdays at 8 p.m. in Warch.