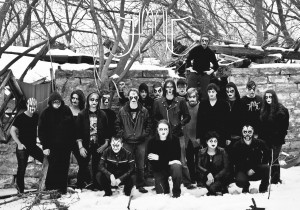 Continuing my fascination with the Chapel's variety of musical inhabitants, on May 2 it was home to the Heavy Metal Ensemble at Lawrence University (HMELU). This unique ensemble of twenty-two musicians presented arrangements of songs by bands like Testament, Blind Guardian, Venom and Equilibrium. As a music lover not well versed in heavy metal, I grabbed my earplugs and jumped into the metal culture.
The Lawrence Conservatory's heavy metal band made its first appearance in 2006 and consisted of drums, guitar and low winds and then went into hiatus until current senior Calvin Armstrong revived the ensemble last school year, 2011-2012, for HMELU's first large group performance as well as the small group concert "Dopesmoker." This past concert was the second performance of the large group, which has grown in size since last year.
Thanks to Armstrong, HMELU had its own commissioning project this year in which video game music composer Peter McConnell wrote a two-movement piece for this unique ensemble. McConnell is most known for his work at LucasArts and for composing soundtracks for the "Monkey Island," "Indiana Jones" and "Star Wars" series. The work for HMELU are entitled "Subatomic" and "Roll It Back" and was filled with shifting and jarring meters and intricate lines reminiscent of a video game.
Senior Evan Johnson says, "I particularly enjoy HMELU because I am an avid listener of metal yet don't play any traditional metal instruments. With HMELU I have the opportunity to make the bass sax into a traditional metal instrument.  Our performance last week was probably my favorite of my Lawrentian career, as I was completely captivated by the music and conveyed that energy in my playing.  My neighbor put it best when he said I had the eyes of a madman, and for that hour I had indeed lost my mind to the metal.  It was glorious."
This year, the ensemble featured the unconventional mixture of bass, tenor and soprano saxophones, two French horns, two trumpets, including piccolo trumpet, tuba, a full trombone section, two guitars, two cellos, bass, drums, percussion and of course vocals. Armstrong and junior Tyler Kundinger traded off vocal duties amid a few purely instrumental tunes.
HMELU has become quite a culture within the Conservatory, with its artistic use of corpse paint for every musician and the now-iconic photographs of the ensemble around campus. This year introduced new metal names for each musician; every member chose a name from mythology, often Norse, phrases translated from Norwegian, Finnish and Icelandic languages or names from existing bands' members.
For music, Armstrong transcribed songs from pre-existing metal bands and arranged them for his own ensemble, which meant arranging for an instrumentation unique to HMELU and, as you can see, not typical in the metal world. His arrangements were engaging as he took non-horn lines and created thick harmonies and singing, aleatoric lines in the saxophones, trombones and trumpets amid the pulsating beats of the rhythm section.
They played more than ten tunes, opening with Testament's "More Than Meets the Eye," continuing with Blind Guardian's "Mirror Mirror," Venom's "Leviathan" and other songs by Equilibrium, Immortal, Apocalyptica, Metal Church, Sardonis, Finntroll and Trepalium.
As a listener new to the metal genre, I thoroughly enjoyed the concert and the use of the full horn section, meshing more "brass band" sounds with jazz and rock idioms amid the metal culture Armstrong aimed for. Don't miss Armstrong's next installment of the stoner metal epic "Dopesmoker," which will be performed on Sunday, May 26 at 7 p.m. in the Wriston Amphitheater!