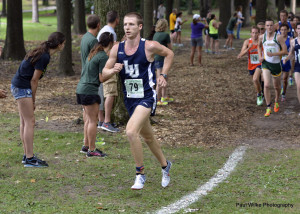 The Lawrence men and women's cross country teams competed at the Roy Griak Invitational last Saturday at the University of Minnesota. Despite unfavorable conditions, the women's team took 14th place out of 29 teams with 428 points and the men placed 15th out of 26 teams with 381 points.
At an invitational meet as large as the Griak, it is very easy to get caught up or lost amongst the hundreds of other runners, leading to a very difficult and stressful race environment. However, the Vikings kept their composure amongst the rain, mud and hills on the University of Minnesota course. "Our goal for this meet was to beat St. Norbert's, the top team in our conference," says head coach Jason Fast. "Although we did not achieve that goal, I'm still happy with how we ran." In the women's 6-kilometer race, Lawrence ran with a strong front pack led by freshman Amy Hutchings with a time of 24:51.8 (70th place), and sophomores Clare Bruning and Liz Landes. Senior Katherine Dannecker came next, along with freshman Kristen Bischel to round off the scoring top five. Freshman Elin Karlsson and senior Anna Ratliff also had strong races. "They had a good race," recounts Fast. "There's still a lot of potential for these women to finish off an already great season."
Despite the loss of senior Jaime Brisbois to injury, the men also performed admirably in their 8-kilometer race. Sophomore Jonah Laursen paced the Vikings as the top finisher in 51st place with a time of 27:46.7. Laursen was followed by junior Kyle Dockery, senior Curran Carlile, sophomore Cam Davies and senior Dan Thoreson, to make a strong top five scoring team. Senior Kevin Fitzgerald and sophomore Chris Fuelling also put forth solid performances, with Fuelling making it into the Lawrence top seven for the first time. "We were solid across the board," says Fast. "Everyone came and did their job."
Although they ran well this weekend, the Vikings will continue to work hard as they have the most challenging part of their season to look forward to. Some will be running as much as 70 miles a week with high intensity workouts to prepare for future meets. "We will continue to strive to improve on a weekly basis," says Fast. "We're taking where we are as a jumping off point. We're happy with how we performed this week but definitely not satisfied. I believe that both teams will be at the top of the Conference by the end of the season." Lawrence's next cross country meet will be this Saturday, Oct. 5 at Wisconsin Lutheran College in Milwaukee.