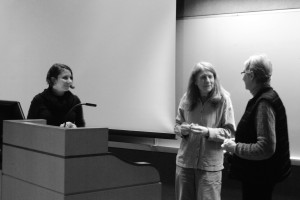 On Monday, Jan. 27, Linda Christianson, an independent studio potter from Minnesota, gave an art lecture about her artwork in the Wriston Art Center. Throughout the lecture, Christianson discussed how her art represents her personal views on what is beautiful.
Christianson has a B.A. in Studio Art from Hamline University. She also participated in the Graduate Apprenticeship Program at Hamline University and the Ceramic Studio Workshop Program at the Banff Centre School for Fine Arts in Banff, Alberta.
Ironically, Christianson had trouble with ceramics in college. While she was very eager about the subject, she had a lot of difficulty. She believes that her true education did not begin until she was out of school and making her own pots on a kiln she had made herself.
Now, Christianson starts every day by making four cups. She also makes tea bowls, soup bowls, plates, serving dishes, buckets and countless other items. Her artwork is displayed in exhibits both nationally and internationally and is also for sale.
When discussing her pottery, Christianson stated, "I make things I want to use myself." Exhibits and money never motivate her artwork — she doesn't create to please anyone but herself and her own curiosity.
In fact, much of her artwork is what she refers to as "an assignment." For example, Christianson will tell herself that she has to make a bottomless cylinder of clay on the kiln, take it off and then turn that one piece of clay into a teapot.
She finds beauty in everyday objects, including old telephones and a set of skis made by her father. She loves the natural beauty of repetition, and stripes are common in her artwork. She also loves looking at handles and flashlights.
She expresses this sense of beauty in her artwork, but also in her house. Christianson wants to love each item in her house. Specifically, she never felt that she loved her faucet.  She decided to build her own faucet out of individual faucet pieces she loved at the store.
While she considers herself a potter, pottery is not her only talent. Christianson draws a little bit every day and also enjoys photography. She particularly enjoys creating visual humor in her photography by pairing similar images in a single photograph.
Christianson's family also participates in this artistic expression. Jeff, Christianson's husband, is a wood worker. He specializes in making pottery wheels, including Christianson's own wheel. Daughter Cecilia Strother, a Lawrence University freshman, draws and plays the trombone.
Overall, Christianson is an inspiring artist. She has her own perception of beauty and creates artwork in order to please just herself. She has built all of her own equipment and become a very talented author.
All aspiring artists should pay attention to Christianson's message. An artist should create to please his or her personal eye for beauty. Do not create for money or fame, but create to make something that is truly beautiful.