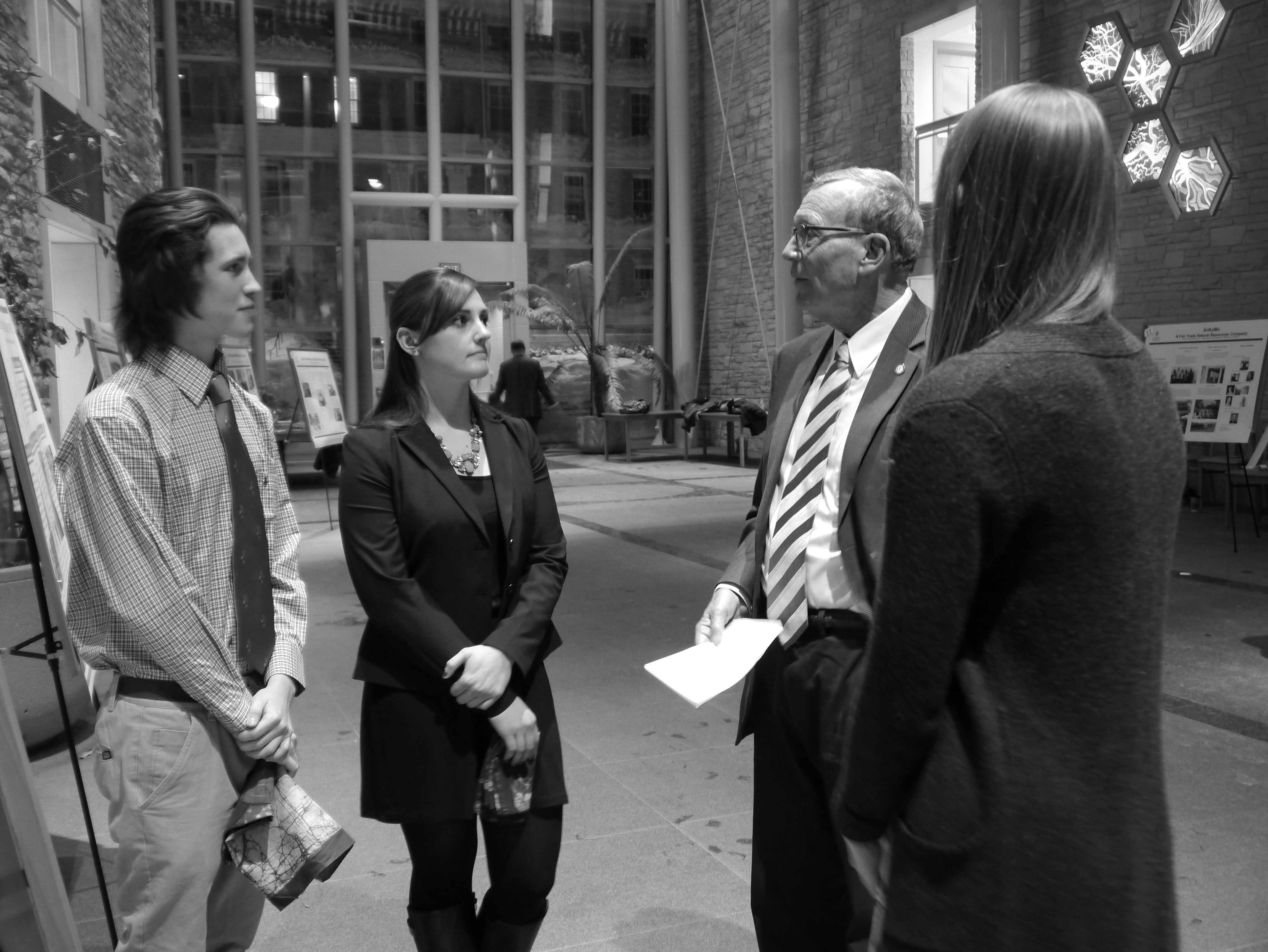 Students and professors lined the Steitz Hall of Science atrium the evening of Thursday, Jan. 30 for an informal poster session to present research done in China and Sierra Leone over Winter Break. Professors, fellow students and trustees questioned researchers about their work abroad during the two-hour event.
Throughout the evening, Kids Give sold cupcakes for a small donation going toward these student scholarships. In the middle of the event, Professor Skran introduced the music students on the program, who performed a Sierra Leone welcome song, complete with traditional percussion.
Half of the research projects were results of Lawrence student interactions with schools in Sierra Leone through the sponsorship of Kids Give, a Lawrence-affiliated non-profit organization. Founded by government and economics professor Claudena Skran after her Fulbright Fellowship in the country in 2006, Kids Give provides elementary or high school scholarships for students at three affiliated schools in Sierra Leone.
Students spent 20 days traveling across Sierra Leone, starting and ending in Freetown, the location of the affiliated Conforti elementary school. Senior Raena Mueller Dahl studied differences in treatment of girls and boys, while other students focused on everything from music education to physical education. During Mueller Dahl's two days at Conforti, she performed research, brought balls and play equipment, and set up a library with other students on the program.
"If the opportunity presents itself, I would definitely go back to Sierra Leone," Mueller Dahl said. "It was an absolutely positive experience."
China was the other destination for Lawrence students over Winter Break through a new selective program entitled "Sustainable China: Integrating Culture, Conservation and Commerce." In preparation for their trip and research, all accepted students took courses in Chinese and additional specialized classes during Fall Term 2013.
Students traveled to urban and rural sites in Shanghai, Wuxi, Guizhou Province, Shenzhen and Hong Kong while working to answer the question, "What makes a livable city?" Groups were put together based on area of interest in environment, government, economy or culture and then focused their research on an assigned location.
"Through our class we learned that there are many different aspects of a livable city," said sophomore Michelle Ohlhausen. Her group focused more on the environment of the city of Wuxi. "You have to look at the environment, the economy and the culture. Although the pollution is awful, I think the tourism industry and the culture that they have there presently is enough to constitute it as a livable city."
The Sustainable China program is part of a four-year Henry Luce Foundation Initiative on Asian Studies and the Environment, made up of a three-part grant. The first part went toward the Sustainable China trip, while the second part will send students back for summer research. The third section of the grant will hopefully fund the Sustainable China Program for 2014-15.
"This seemed like such a cool thing to do, to go to China or go to Sierra Leone," said junior Ashley Coenen. "I can't believe that Lawrence students are doing this because it's just a really neat opportunity. I wanted to actually see what they did there and I would be interested in doing this, as well."