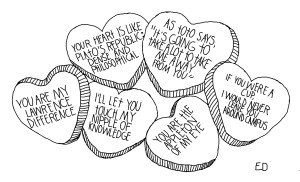 Are you in love? Are you out of romantic ideas and panicking due to your dating version of writer's block? Hello, and welcome to Specht Pages, the true and supreme voice of Lawrence University. In this celebratory 35th issue and Valentine's Day special, we will provide you with extra heavy-duty, Specht Pages-approved dating advice. So sit back, relax and allow Specht Pages to make your Valentine's Day one which will not soon be forgotten—however, it may be repressed.
One cool thing you can do as a Lawrence student is take advantage of the Room Reservation System. For your dream date, you could reserve a number of different spaces on campus. For example, you could rent out the cinema for a private showing of hit movies such as "Pearl Harbor," "Apocalypse Now" or "Gremlins" for your sweetheart. Alternatively, if the cinema is unavailable, you could reserve a similar space such as the Wriston Auditorium or one of the lecture halls in the science buildings. Any other classroom could work in a pinch.
Another tip is to make friends with the Kohler Hall RHD so you can have a date on the Kohler roof. You could set up a picnic and watch the sun set. Ladies, if you are the one setting up this date, be sure to bring remote control airplanes!
What could be more romantic than spending some time with your cuddle bear in Main Hall's cupola, better known as the Nipple of Knowledge? To pull this off, you might have to make nice with campus security or maybe even Mark Burstein himself!
You could use mail services to send anonymous love letters to your heart's desire (SPC 1456 to send some to Specht Pages).
Additionally, the corner store sells plenty of chocolate and lots of Valentine's Day candy. Sometimes, they even sell flowers. It makes a perfect gift in a pinch.
You could hire a studio art major to paint a caricature or perhaps even a portrait of you two. It could well be mantel-worthy! Beware: It may have some oddities, such as being all orange or lacking any curved lines. You never know when dealing with an art major.
Find a chemistry major and commission them to cook you up some "love potion #9." I'm not sure what it'll do, but hopefully it will allow you to see better in the dark.
Hire a group of vocal majors to sing a barbershop-quartet style serenade to liquefy your special friend's heart.
Convince LUMOS to cast some sort of love or attraction spell on the one whom you seek. Beware: This spell always backfires in the movies.
Make friends with your RLA. You would be surprised, but an RLA can be of great service in your romantic endeavors. For example, your RLA could plan a program and invite only you and the person on whom you have a crush and then conveniently leave you two alone. Additionally, your RLA can serve as your chaperone if you can't find anyone else. I believe that is in their job description.
Make your valentine pancakes in the shape of a heart. In a pinch, you can use a George Foreman grill to cook them.
There you have it—some incredibly useful dating advice from an incredibly reliable source.
"You heard it first from Specht Pages!"