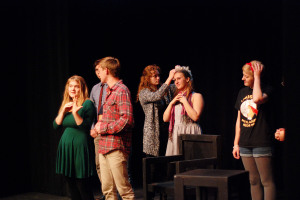 Lawrence's 1440 Theater Carnival, which is held once every trimester, is a tricky thing. Here's how it works: a group of writers, directors and actors all get together the night before show time and assign who's going to work together. Actors are bartered for, props are distributed and the time limit and rules on what you can and cannot do are gone over again to make sure that there's nothing overly explicit or naughty going on.
Following that, playwrights have until about two or three in the morning to produce a script that is at least eight but no more than 15 minutes long, and that gives everyone in their cast a part. The cast is then summoned early in the morning to the theater, where they will rehearse and memorize their lines until show time exactly 24 hours, or 1440 minutes, later. There are no limits otherwise, except for perhaps the need to use or mention a prop or event. Works that appear can be deeply personal or totally wacky. Anything can happen, and anything usually does.
This was in full force on Saturday, Oct. 4 when this term's Theater Carnival took place, showcasing two plays that showed a wide a range of ideas.
The first play of the night was "Amnesia," a short two-character piece written by sophomore Yvonne Tessman, starring sophomore Sabrina Craven and junior Elias Heckman-Heath and directed by freshman Kandra Rudelius-Palmer. It revolves around a young woman who lost her memory 34 days prior to the start of the story and is talking with her doctor about how she's supposed to rediscover who she is. I must say I liked it; it was sweet, low key yet touching. It reminded me a lot of Yoko Ogawa's "The Housekeeper and the Professor," though even smaller in key, if that makes any sense.
The second play, the personal epic of sophomore Noah Gunther, sophomore Kip Hathaway, sophomore Kobe Lewin and sophomore Ridley Tankersley, "Masterpiece Classics Presents: A Standard Murder Mystery," starring freshman Jenny Hanrahan and freshman Madeline M. Moran, and directed by sophomore Olivia Gregorich, was without question the single most baffling theatergoing experience I have had in my entire. Concerning two women who might be playing two ten-year-old girls or something or other named, I kid you not, Barb Wyre and Rabbi Kaufman, who play a variety of make believe games, have a romantic liaison, and then fly back to their home planet, this was a profoundly symbolic piece rich in nuance and-
Oh, I can't go on pretending. This was a comedy, pure and simple. But it wasn't comedy like any I'd seen. At times, I felt that the writers were intentionally making up whatever was making their sleep deprived minds laugh, and not even bother trying to come up with a story, characters, or even anything resembling conventional sense. It should have been garbage, yet I was entertained. I laughed. I laughed quite a few times. What does that say in the end? Nothing really matters unless you entertain, I suppose.
And isn't that the whole point of these theater carnivals in the first place? We should not expect Shakespeare, especially within the time limits. But we are exposed to something new, which is the more important thing.