From left to right, Bridget Bartal, LIly Greene and George Greenberg perform in Sinfonia Loft. They are the members of a new rock band on campus, called Guano Girls.
Photo by Julia Balesteri.
Junior Bridget Bartal is performing with her band, The Guano Girls, at Sinfonia Live. She has a broken guitar string and there's blood all over her guitar as she croons loudly and passionately into her mic. Matching Bartal's energy is senior Lily Greene's confident drums and junior Georgia Greenberg's strong bass. This is The Guano Girls' debut and they are holding nothing back, their raw, bold energy asserting their place as a strong new voice on the campus music scene.
The Guano Girls started after Bartal sent a Facebook message out at the end of summer asking if any of her friends were interested in forming a band. At this time, Bartal had only been playing guitar for two months and Greene had only had two or three drum lessons. After finding a free drum kit in the SLUG basement and a rehearsal space in the laundry room of WLFM house, The Guano Girls were ready to go. The band spent their first rehearsal trying to scrub bat poop (or guano) off their drum kit, but it just wouldn't come off. So, both the name and the bat poop stuck.
"Our rehearsals came together quickly first by accident—it just so happened we had free time three days in a row," says Greenberg. "The three of us were excited to work together, excited to get to know each other better and share music with one another, excited by the idea of finally being in a band, and excited to bring new blood to campus bands at Lawrence."
The band enjoys playing a mix of covers and originals. Greenberg has been writing songs since was little, playing originals in bands since high school, and Bartal just wrote and released her first EP, "Irene Cool (is trying)" over the summer. The band enjoys sparse rock textures without keyboard or fancy intonations. They're also not afraid of switching things up either with each member singing and Greenberg and Greene swapping between bass and drums.
In a music scene largely dominated by males and conservatory students, The Guano Girls recognize the importance of their role in adding a new voice to the campus music scene. When asked about advice they would give to others (especially other women) who are interested in making music together but are maybe shy about doing so, all three stressed the importance of "just doing it."
"It can be as low-key as you want—maybe you and a friend learn to play one song and that's it," says Greenberg. "You just have to try it, and try to have as much fun as you can!" Greenberg also encourages anyone who wants help or is unsure to reach out to her.
Although the original line-up of the Guano Girls won't exist beyond fall term as Bartal will be studying abroad during winter and spring terms, the band hopes to play one or two more shows in the fall term.
"We loved the crowd and their energy," says Bartal after their debut. "We'll keep you posted!"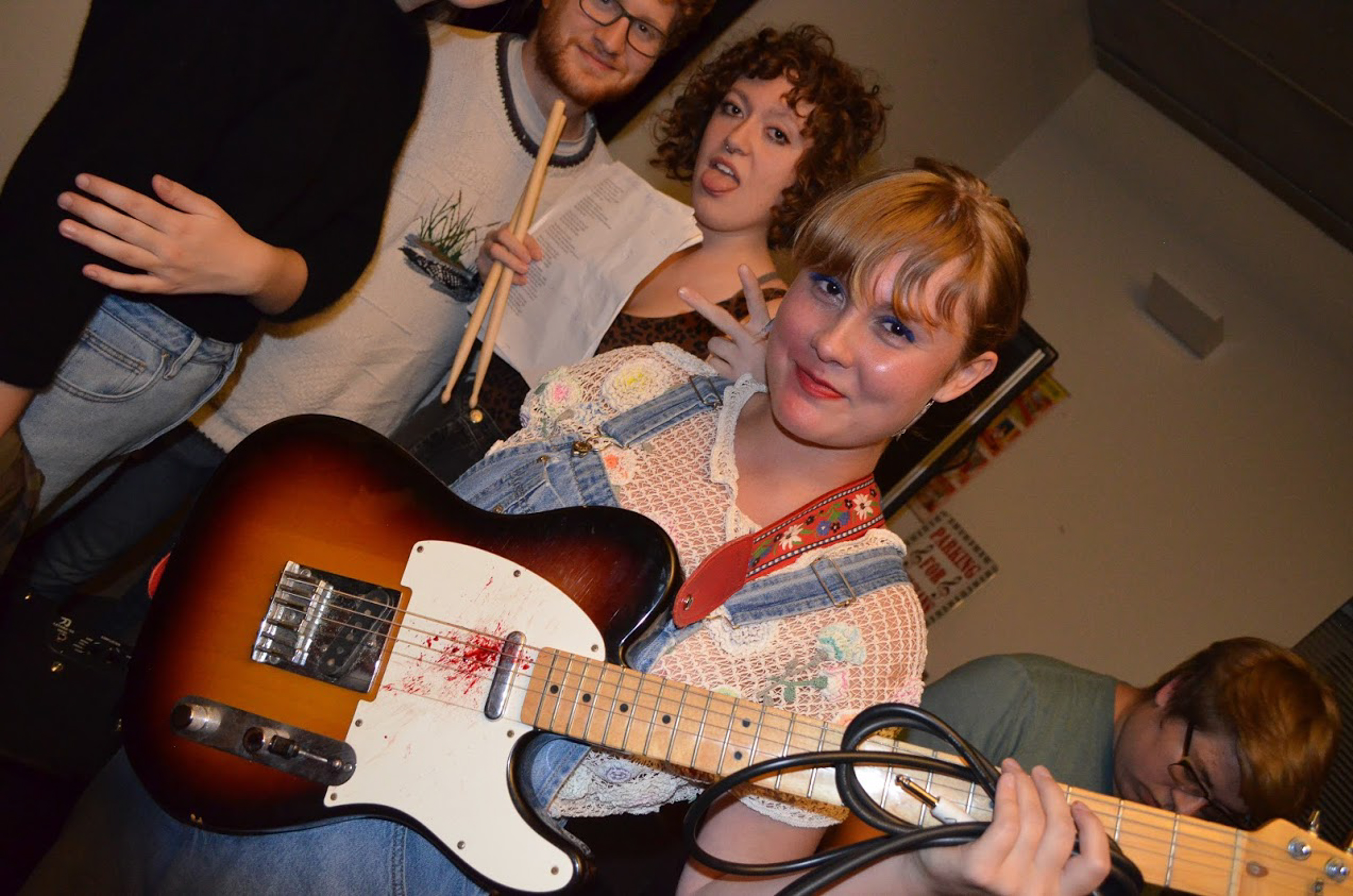 Bridget Bartal, guitarist and vocalist for Guano Girls, poses with her blood-stained guitar after the gig.
Photo by Julia Balesteri.