Senior Leah Reeves keeps a sharp focus on defense.
Photo by Caroline Garrow.
Over this past weekend, our Lawrence University Vikings took on one of our rival Wisconsin teams in our conference, Beloit College. This weekend they were on our home turf, giving us a chance to defend our school's pride, spirit and values.
The men's basketball team had a pretty successful turnout as they stayed neck and neck during the first half. The Vikings were only trailing by three points, 35-32. In the second half, the Vikings kicked into high gear and scored seven more points in the second half than in the first. The end result was the Vikings winning 71 to 64.
Sophomore Brad Sendall was the lead scorer for that game. Sendall scored 17 points out of the 71 points total, contributing about 24 percent of the points. I interviewed Sendall and asked him what he did to motivate himself and what motivated the team to come out stronger in the second half. Sendall replied, "We're a confident team. We feel like if we play to our potential, we can beat just about anybody. That was our mindset at halftime. Although we were down four or five, we just felt like we didn't play a great half, but we still were in it. That gave us some confidence. We addressed the need to communicate a little more on the defensive end as well as finish possessions by securing the rebound. I think we improved in that respect in the second half. Offensively we missed shots in the first half that we normally make. Basketball is easier when shots are going in. That was also a welcomed change in the second half."
Sendall addressed the importance of scoring, but emphasized that it was their mind set which ultimately changed the game and what had made them successful in the end. I asked Sendall what he thought was the most challenging obstacle he had to overcome or adjust to in this game. He said, "We know if we play like we are capable of playing, winning will take care of itself. A couple main things we stressed were rebounding and limiting Tristan Shoup's (Beloit's best player) touches. Although he still had 21 points, I think we did a good job making it difficult on him, so credit to our bigs who played him throughout the whole game."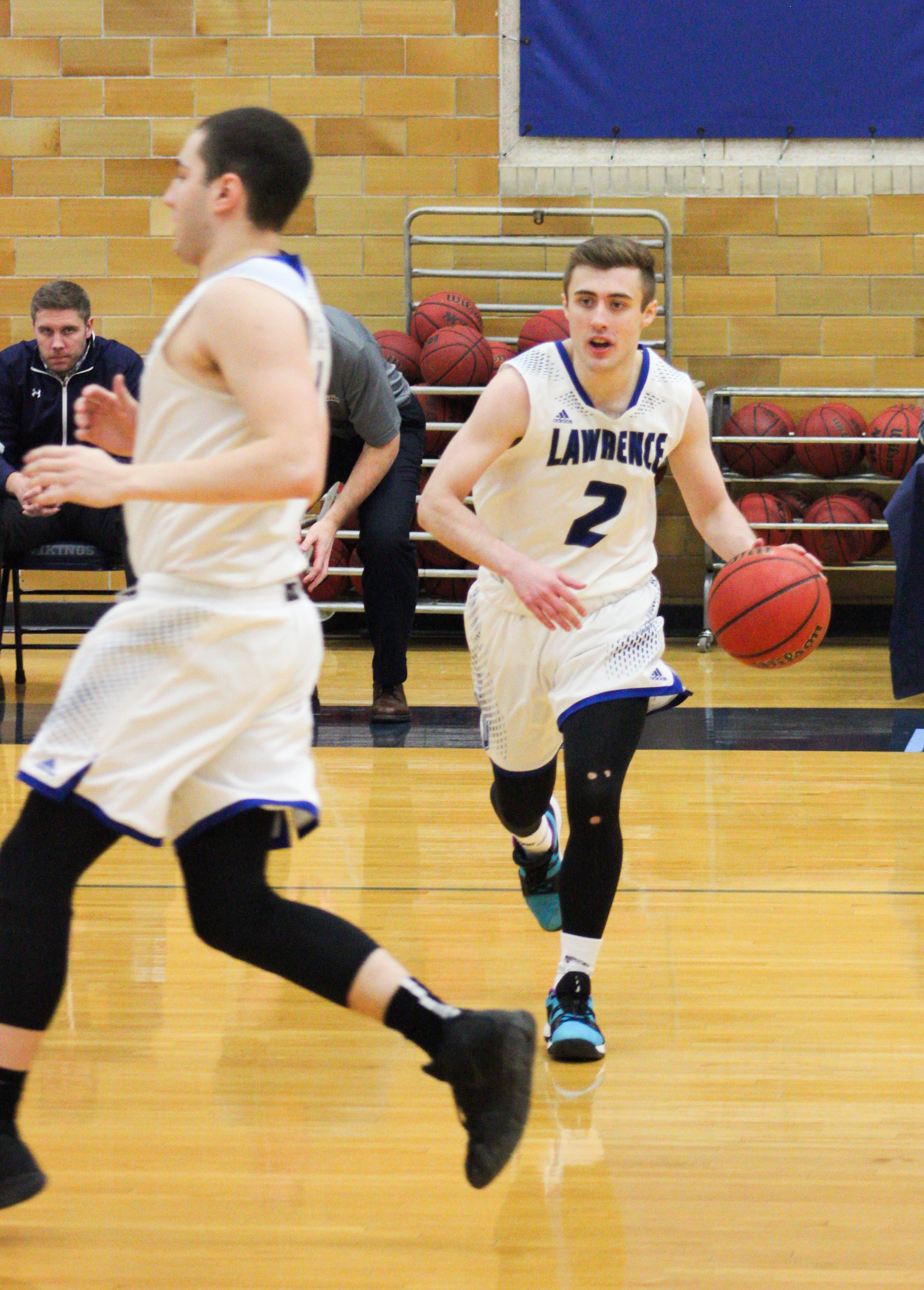 Junior Quinn Fisher plays point directing his team towards success.
Photo by Caroline Garrow.
Reading up on your opposing team is a very common and smart strategy in sports. There are two kinds of preparation: the physical side and the mental side. Not only do you have to prepare yourself but prepare for your opponents as well. One way in which teams do this is by learning as much as they can about the other team. This includes, but is not limited to, analyzing their formation or learning who the best players are and preparing for them.
I then asked Sendall what he loves about basketball and what inspired him to play in the first place. He responded, "Personally, I just love the competitiveness of basketball. I don't even remember the first time I picked a basketball up…it was probably before I could walk. I always grew up watching the NBA, and ever since middle school, my goal was to play college basketball. I have always been a naturally quiet person, but that goes away when I step on the court. Basketball helps me express myself in a way. I am very glad I continued to pursue basketball. It has opened many doors for me, such as the opportunity to attend Lawrence. I hope to play for as long as I can because it is something I truly love to do."
The women's basketball team was off again to a rocky start in the first half, trailing Beloit 23 to 35. Unfortunately, the women's team was not able to pull out a win, but their determination never wavered, even in the last final minutes of the game. The pressure was high and the momentum carried throughout the game until the buzzer sounded.
I interviewed a sophomore on the women's basketball team, Liz Jonjak, and asked her how she felt her team played overall, what was something the team improved on this game and what is something she feels they are lacking and need some improvement on. Jonjak responded, "Our team just has such great energy together and we truly all love each other! Just like any team we have positives and negatives. But the greatest thing about this team is our ability to fight through adversity. We are pumped for the future."
Jonjak makes a good point: there's always going to be positive and negative aspects to a game but having the ability to recognize that and having the determination to not give up is what is going to make all the difference. I then asked Jonjak what she thought she did well at this game. She said, "This was my first game back from a concussion. I was just playing my heart out because I was so excited to be back on the court."
It's hard to jump right into a game after being out for a while, but an athlete like Jonjak has the courage and determination to push themselves. Athletes like this are the foundation that make the team as a whole stronger and more successful. I then asked Jonjak: What do you think the team needs to do next time in order to be successful against Beloit and end up on top? She responded by saying, "Our team is pushing ourselves so hard and we are almost there. The energy is great from the team and everyone is just so amazing! We just have to get over a little hump to win."
Finally, I asked her why she plays basketball. She said, "I absolutely love the game of basketball. I have been dribbling a ball as long as I could walk. My parents both played basketball and it has always been a part of my life. I couldn't imagine my life without basketball." As an athlete you both play and breathe your sport in order to be successful, unless of course you're a swimmer!