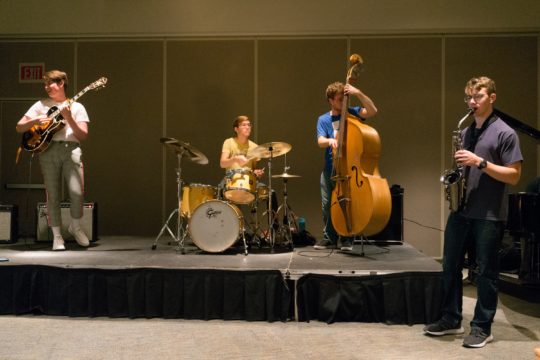 On Monday, Sept. 30, at 9:30 p.m., students gathered in Mead Witter in the Warch Campus Center to play and listen to the weekly Jazz Jam. On stage were seniors Matthew Wronski on viola, Nathan Glaser on piano, and Nick Mueller on saxophone, junior Tim Moyer on alto saxophone and freshmen Michael Murphy on guitar and David Pickar on drums. When the jam kicked off, there were about as many people on stage as there were in the audience, but that didn't stop the performers from jumping straight into an upbeat piece. With Wronski on the viola, the tune had almost a folksy vibe, something that might permit a Western-funk dancing fusion. The musicians progressed through the piece, taking turns soloing while audience members tapped feet to the beat and chatted with friends or worked on homework. In certain performance contexts, the lack of sharp attention from the crowd might seem rude or unusual, but the beauty of the jazz jams is that there aren't really any expectations — one can drop in for however long they want, decide to fully engage with the performance or simply treat it as ambience to work or socialize to. These relaxed guidelines also apply to the performers, who are of all years and skill levels: some practice their craft in the Conservatory and some simply dabble.
In between songs, the performers talk, laugh and discuss which direction to take the next piece. Audience members call out recommendations — tonight, senior Molly Reese shouted, "Play the Charlie Brown theme song."
"I request it every time," Reese said. "Sometimes they play it."
This time, she had no such luck. Instead, the group dove into an Animal Crossing-esc piece, featuring freshman Chris Dyble on the harmonica. It was a refreshing change of pace from the previous piece. It was a relatively happy piece, the kind of thing one might listen to on a walk on a sunny morning. Dyble's harmonica playing was certainly the centerpiece of the song, as he improvised and kept the audience on their toes.
Next, several musicians swapped out, senior Sebastian Roman now on saxophone, junior Eric Roescheiln on piano and sophomores Ian Harvey on bass and Alex Lewis on cello. Their chosen piece was smoother than those that came before, the cello providing a melancholy element. It was a calming piece that nicely contrasted the happy-go-lucky feeling of the one before.
While the jams usually run until midnight, performers and viewers come and go as they please. By 11 p.m., things had begun to die down some — on a Monday night, many Lawentians are getting into bed around this time. Either way, it is nice to know that every Monday there is a place to go where one can unwind with friends and music. Traditions like Jazz Jam feel unique to Lawrence, as it brings conservatory students together with people who just like to listen to or play music, and it is something Lawrentians are able to look forward to.
For those interested in getting involved, jazz jams are held weekly in Mead Witter during fall term, and all are welcome to participate as a performer or audience member. Bring your own instrument!