Lawrence's fourth annual Indigenous Peoples' Day celebration was hosted by the Lawrence University Native American Organization (LUNA) in the Somerset Room on Oct. 14.
The event aimed both to celebrate Indigenous cultures in the Americas and to educate attendees on the troubles facing various Native American groups, according to LUNA President sophomore Taneya Garcia, a member of the Santa Ana and the Acoma Pueblos.
"We're on indigenous land and it's something that we need to remember," said fifth-year Callie Ochs, who has attended the Indigenous Peoples' Day celebration almost every year. "Up until college it was never really talked about in school, and I think we need to blot out the whole Columbus Day thing because he does not deserve his own day."
According to Associate Professor of Music Education and LUNA faculty advisor Brigetta Miller, who is currently teaching Ethnic Studies (ETST) 300, a course titled "Perspectives of Contemporary Indigenous Women," there has been a nationwide push to reconsider the celebration of Columbus Day and to replace it with Indigenous Peoples' Day.
As of 2019, 12 states have formally recognized the legitimacy of the holiday — Wisconsin became the latest state to do so last week.
Miller believes that this shift comes from a collective desire for children to be shown both sides of Columbus' expedition, including the Indigenous perspective. By elevating Columbus to hero status, Miller feels children are not being taught the truth about what truly happened in history.
"People are declaring this is our time to honor our Indigenous culture and history and the stories of the people who lived here prior to Columbus' arrival," Miller said. "He didn't discover us. We were here long before he arrived."
In order to raise this visibility, Monday's celebration featured two primary exhibitions for the attendees to view: the powwow dance performed by the Oneida Nation and a gallery featuring traditional dance garments and information on modern Indigenous struggles.
The powwow, which is meant to showcase the power of gathering together with one's community to share songs, dances and stories according to Oneida Nation member and event speaker Frank Figuero, featured various types of Native American dance styles from women's jingle dress dancing to men's grass dancing, as well as many more. Of the various dancers performing in the powwow, many participate in dance competitions across the U.S., Figuero said.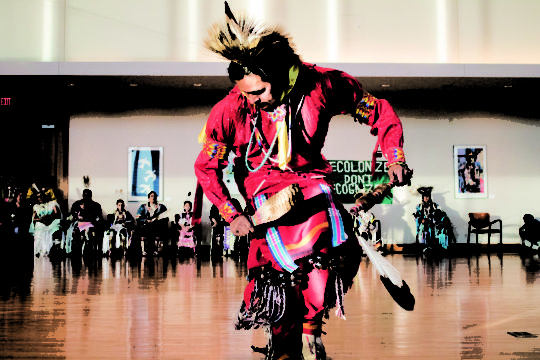 The intricate garments worn by the dancers were displayed in the gallery, accompanied by text explaining their value and significance. Along with providing additional context for the dance styles and outfits, the gallery brought attention to the more contemporary issues Indigenous people are fighting today, such as fracking, building projects on Native American land and the high rates of sexual violence against Indigenous women.
LUNA also provided slips of paper containing reasons to celebrate Indigenous Peoples' Day and suggestions for how students can be better allies to Indigenous communities, including listening to and amplifying Indigenous voices, attending Indigenous events, finding out about Indigenous land and purchasing Indigenous goods.
According to Garcia, it's important to recognize and celebrate the cultures and histories of Indigenous people, since she has seen their stories often forgotten.
Especially on Indigenous Peoples' Day, Garcia believes it must be acknowledged that when Columbus arrived in the Americas, there were already existing cultures — cultures whose significance and value have since been minimized.
"It can be hard for Indigenous students because they come from all over the place on campus," Garcia said. "When we're isolated from our cultures, when we're isolated from identities, we really stick together, and we find a home in each other. And so I think that when we have this celebration, we find ourselves again. We're saying 'this is us, we're still here,' you know, and so I think I'm just excited to have people see us again."