The surrounding Appleton community plays host to a rich variety of artistic events. Many of these occur in the Performing Arts Center (PAC), whose upcoming performances include world music surveys, orchestral concerts, dance extravaganzas and musicals.
Coming up this Saturday, Sep. 23 is the massive Rhythms of the World event. Held at the Houdini Plaza, it features a large string of ensembles from 9 a.m. to 4 p.m. The music included represents traditions from every continent on Earth — apart from Antartica, that is. Family appeal and audience participation are central components of the event.
Also taking place Sep. 23 —and the following night — is the Fox Valley Symphony Orchestra's seasonal opener. The evening concert will blend the orchestra's classical aesthetic with jazz from visiting group The Rodney Marsalis Philadelphia Big Brass. Although the latter hails from Philadelphia, their jazz traditions align closely with those of New Orleans, offering a lively and exciting evening. A pre-show Q&A for dedicated concert goers will take place an hour before.
The dance company Step Afrika! is on its way to Appleton. As specialists of the African and Caribbean-influenced Stepping tradition, they use every aspect of the human body for rhythm creation. Oftentimes, spoken word and aspects of other dance styles are included, such as tap and break dancing.
Step Afrika! begins with an instructional workshop at 6 p.m. on Oct. 2, which is free—although registration is limited. The group will then perform the following night at 7:30 p.m., ending with a post-show Q&A.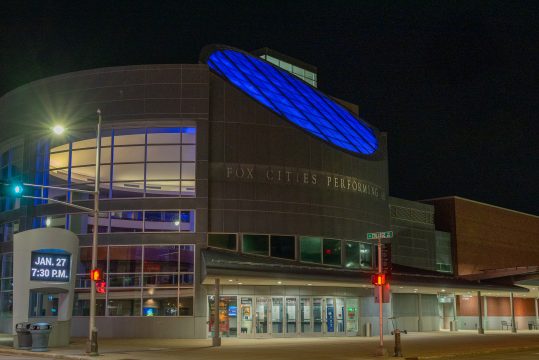 Other October highlights include a comedy set by famed actor William Shatner. Best known for his portrayal of Captain James T. Kirk in the "Star Trek" franchise, Shatner promises to deliver a preponderance of humorous and interesting anecdotes from his lengthy career. A screening of the 1982 "Star Trek" film takes place afterwards, as will a photo opportunity for VIP patrons.
During its Midwest tour, The President's Own Marine Band stops by the PAC on Oct. 18. The virtuoso ensemble promises standard band works alongside recently composed ones. This single night concert is completely free of charge.
In late October the PAC will be home to "Pretty Woman: The Musical." The successful and highly regarded show will have nearly eight performances over its week-long residency. Based on its namesake 1990 film, the musical centers around a wealthy businessman and a hired prostitute. Despite its peculiar plot, the show includes catchy tunes and captivating choreography.
For its second concert, the Fox Valley Symphony Orchestra features a program entitled "Heroes." Indeed, the second half features Beethoven's famous Third Symphony, known as the "Eroica" (Heroic) Symphony. According to legend, the composer wrote the symphony in honor of the liberator Napolean, but when the latter declared himself an emperor, he scratched the dedicatee's name out of the score.
Alongside this masterpiece is an interesting selection of repertoire. Three American composers are included, the youngest being Missy Mazzoli, whose composition "These Worlds in Us" will be performed. The "Festive Overture" by William Grant Still is also programmed, as is Aaron Copland's "Lincoln Portrait."
For those seeking entertainment, the PAC includes a wide variety. Some performances are free, while cheap tickets for others are readily available. Many events will be sold out soon, so get your tickets now!